There was a time not so long ago when barrel-aged beers were just starting to trickle out of American craft breweries. At the time, some speculated they might just be a passing fancy. Those naysayers are probably still waiting out similar fads like television and the internet, but we, like many beer enthusiasts, have embraced oak-matured ale as something that is here to stay (thank goodness). For most breweries, barrel-aging involves siphoning an imperial stout or barley wine into a barrel. This is a straightforward method that yields fantastic results (as evidenced by our own barrel-aged creations, such as Fyodor's Classic, Mikhael's Odd and Guardian's Slumber), but when contemplating our latest oak-kissed brew, we wanted to take things a step further to create something truly unique. No, not "unique" in the over-used sense of the word that generifies this definitive term. This beer—a hoppy, decidedly West Coast double IPA blended with a barrel-aged Belgian-style tripel—is truly and literally unique. Allow us to explain as we take you through the intriguing make-up of Ecliptic/Wicked Weed/Stone Points Unknown IPA.
https://www.youtube.com/watch?v=fkAbPyVWcpM
At this point, connoisseurs with a bent for barrel-aged brews are racking their brains, thinking to themselves: I think I might have once had a blend of India pale ale and tripel with barrel character…big deal. If so, pictures or it didn't happen! Also, let us finish. The barrels that were used to age the tripel for this beer previously housed fine red wine. But wait…we're still not finished. After being emptied of their rich, tannic contents, those oak barrels were then shipped to a distillery south of the border where they were used to age añejo tequila. So there you have it—a hop-heavy double IPA combined with a Belgian-style tripel given extra layers of flavor courtesy of wine- and tequila-laced oak. No, you haven't encountered anything like this, and you likely never will again. That was the point of this beer, to take things to…well…points unknown!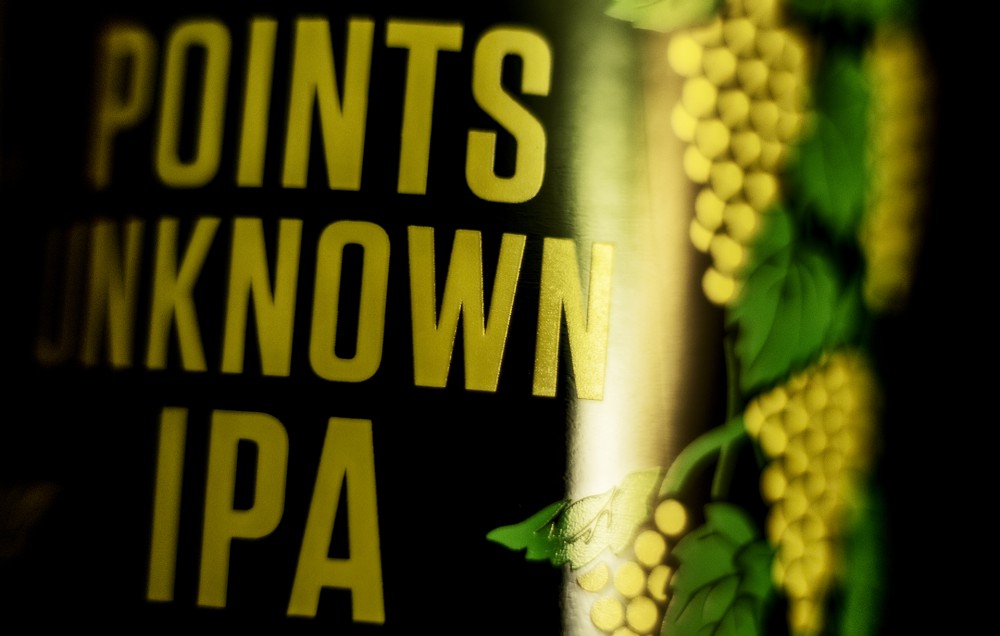 A beer this complex and different begs the question: What does something this unheard of taste like? Fans of Stone's extremely hoppy beers will be pleased to learn it features highly botanical, citrusy, tropical aromas and flavors consistent with our other hop-centric creations. (You know them, you love them—Stone Delicious IPA, Stone Ruination Double IPA 2.0, Stone Enjoy By IPA). This comes courtesy of Steele employing hop-bursting techniques used to extract maximum character—in this case from a mixture of Amarillo, Calypso and Jarrylo hops—late in the brewing process. All of that hoppiness is given brilliant depth care of bright, orangey phenols produced by our house strain of Belgian yeast, coaxed from the tripel during its fermentation period, plus dry, tannic earthiness from those triple-use barrels.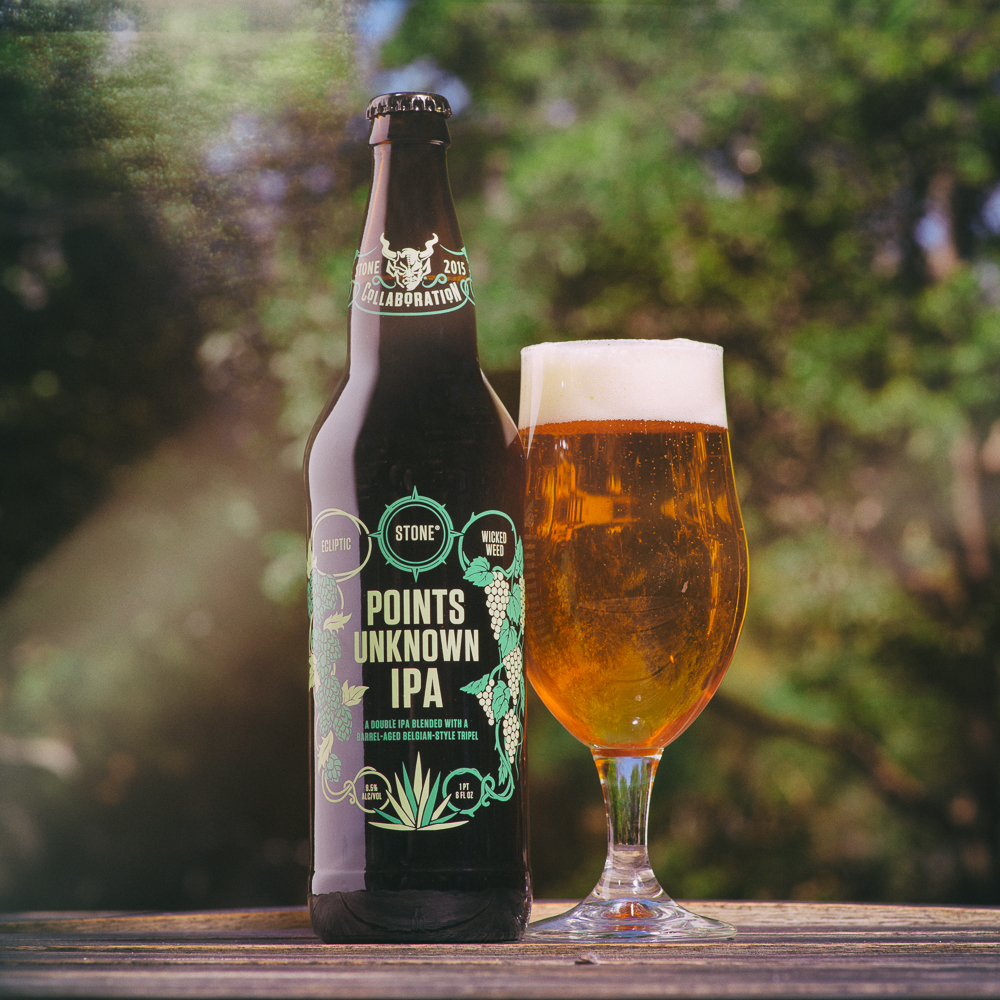 In venturing outside typical brewing territory, Stone Brewmaster Mitch Steele decided his best chance for achieving something other-worldly would be to draw on experts from well-known brewing regions—Portland, Oregon and Asheville, North Carolina. Both locales are considered hotbeds of craft beer ingenuity, thanks much in part to the contributions of Steele's collaborative partners, John Harris from Ecliptic Brewing Company, and Luke and Walt Dickinson from Wicked Weed Brewing. The former spent a quarter-century as one of the most prominent brewers in the Pacific Northwest (most notably for his work at Deschutes Brewery and Full Sail Brewing) before opening his own passion project. The latter are the brothers behind one of the country's most experimental, buzzworthy brewing outfits. Together, these brewing powerhouses from points far removed combined to create Ecliptic/Wicked Weed/Stone Points Unknown IPA, which will grace store shelves in 22-ounce bottles and find its way on draft at craft beer venues across the country. It's rare to come across uncharted territory in this day and age, so it's advisable to jump on this one before everybody's doing blends of beer styles hailing from different countries of origin partially aged in multi-use wine and liquor barrels! [wink] Tasting notes, provided by Stone Brewmaster Mitch Steele
ABV: 9.5%ABV
IBUs: 72
Availability: Limited 22-ounce bottles and draft, beginning May 11
Hops Bill: Magnum, Styrian Celeia; Amarillo, Calypso, Jarrylo
National Distribution: AK, AL, AZ, CA, CO, CT, DC, DE, FL, GA, HI, IA, ID, IL, IN, KS, KY, LA, MA, MD, ME, MI, MN, MO, MT, NC, NE, NH, NJ, NM, NV, NY, OH, OR, PA, RI, SC, TN, TX, VA, VT, WA and Puerto Rico
International Distribution: Australia; Alberta and British Columbia, Canada; Japan; Singapore; and United Kingdom
Appearance: Deep gold with a tinted red hue.
Aroma: Very interesting blend of peach and banana from the hops and yeast, plus toasted malts, hints of wood and a touch of alcohol heat.
Taste: Fruity, with lots of banana and berry components followed by peach and vanilla. Hints of wood, and a pronounced Belgian yeast component that is more banana than clove. There's a slight tannic presence in the finish from the portion aged in tequila barrels that is very pleasant and blends well with the beer's substantial bitterness.
Overall: This beer is very complex. The idea of creating a beer blend that's 25% traditional Belgian tripel (half of which was aged in red wine barrels that had been most recently used for aging tequila) and 75% modern double IPA was inspired by all three brewers' love of traditional beer styles and pushing the envelope with new beers. The resulting beer drinks like a cross between a double IPA, a barrel-aged barley wine and a Belgian tripel. There are elements of all three and perceptions of the beer change as it warms.
Suggested pairings, provided by "Dr." Bill Sysak
Appetizers: Vegetarian pot stickers, coconut shrimp, ceviche, baked zucchini fries, mussels
Salads: Endive and pear, Thai noodle, heirloom beet, Waldorf
Entrees: Fried chicken, chile rellenos, salmon, pesto tortellini
Cheeses: Prairie Fruit Farms Moonglo, Cowgirl Creamery Midnight Moon, Fiscalini Bandage Wrapped Cheddar, Carr Valley Marisa
Desserts: Lemon bars, bananas Foster, strawberry cheesecake, carrot cake
Cigars: Drew Estate Herrera Esteli Lancero, Davidoff Winston Churchill, Arturo Fuente 8-5-8 Candela Lonsdale