Instead of creating a big buildup about the rebrew of the richly roasty, chocolate-heavy Stone 12th Anniversary Bitter Chocolate Oatmeal Stout, let's just dig right in with a quote about this beer's recipe from our president, co-founder & original brewmaster:
"With the inspiration coming from two team members who are still here at Stone, this is the perfect beer to kick off our 20th Anniversary Encore Series. Not to mention it means I get to revisit one of the more unique, complex and downright tastiest beers we've ever brewed…without digging into my cellar!" — Steve Wagner
Image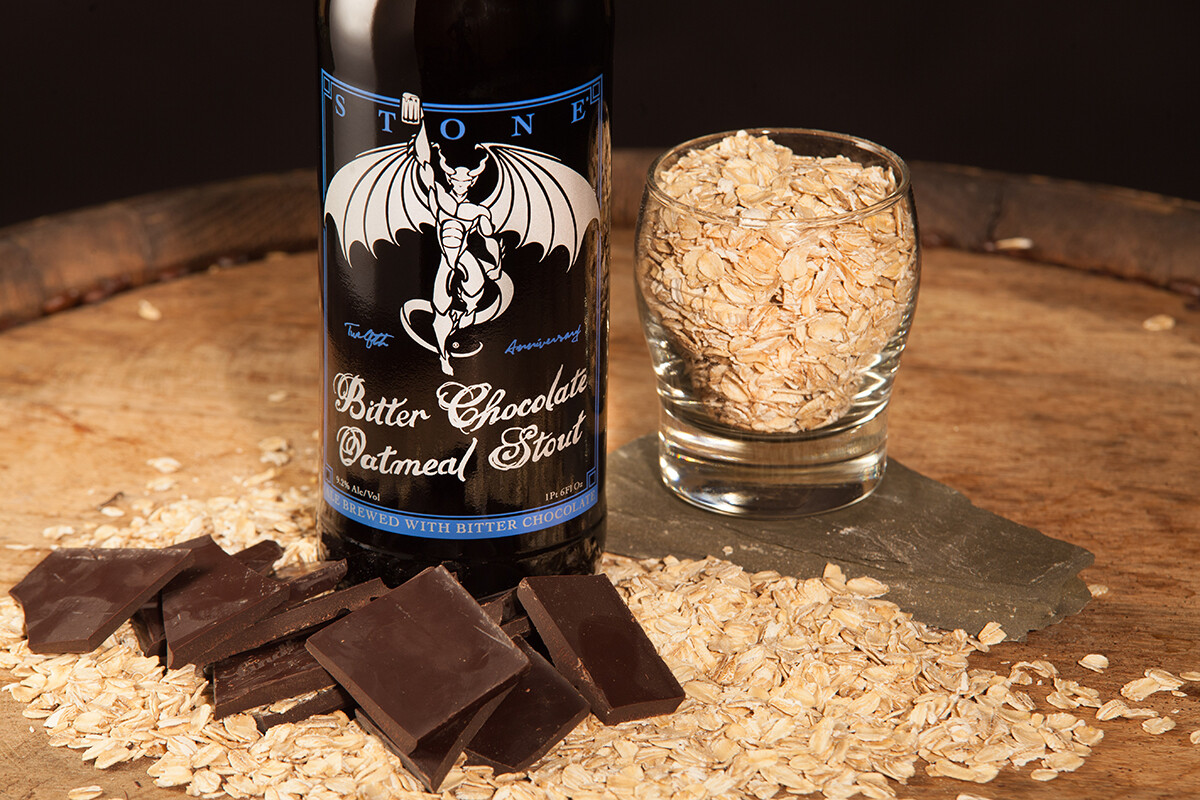 JAKE'S STORY
Back in 2007 I had recently spent a week visiting villages in Oaxaca, Mexico, and aside from some awesome mezcal, I brought back a huge brick of chocolate from one of the villages and because of the mezcal, I had no idea why I had brought back this chocolate. I had been homebrewing for a few years (mostly IPAs, of course) and wanted to do something that would raise the hairs on your arm, so I came up with an imperial stout with espresso and this brick of chocolate. I put together a recipe for a 10.5% imperial stout, and after pushing my homebrew equipment to the limit, it came out better than I could have expected.

There happened to be a Homebrew Fest in Temecula coming up that May, so I stashed a 1/6 bbl keg with the thought that I would take it there and enjoy watching people taste what was my best brew to date. I didn't figure that Greg Koch would decide to come to the event as a fan and sample some great homebrewed beers. So, here is Greg at my booth asking to try my imperial stout and the pessimist in me starts thinking, "If he hates the beer, he can't fire me, can he?" Well, it turned out he had nothing but great things to say and even had a second pour (maybe a third).

It was an amazing honor when I was asked to team up with Jeremy, a brewer who possesses mad skills, to collaborate on the 12th Anniversary Ale. This moment still stands as one of the biggest highlights of my 16 years here at Stone. I hope the fans enjoy the redux of this amazing brew as much as I know I will.
Image
JEREMY'S STORY
When I really started getting into non-macro beer in my college days, I gravitated toward dark beers and especially stouts. I was a big Guinness fan, and when I tried the oatmeal stout by Karl Strauss in the very early '90s, I was blown away. It became a style I really liked and you really didn't find oatmeal stouts too often, so I was always on the lookout.

When I got the chance to make one at Stone, I loved the fact that it was full of flavor but relatively low in ABV. Obviously it evolved into a high ABV beer because Mitch, Steve and Greg thought it would be a good anniversary beer, but they wanted it to be BIG. Jake had made an imperial stout pilot brew that used chocolate from Oaxaca (although we couldn't get that much chocolate for the final recipe, so we used a local supplier) and the idea was to basically combine the two recipes. I love what it became and the addition of chocolate added a really cool, complex component.

This brew came at a perfect time too because the hop supply was really lopsided and some vendors were charging 3x normal prices because there was such a shortage. It's amazing to think it's been eight years since we last brewed it and a lot has changed here. I actually just tried the rebrew and it brought back a lot of good memories, and it's awesome to have a chance to experience this beer all over again.

(BTW: My original base brew has been done twice at Stone Brewing World Bistro & Gardens - Liberty Station and is called J's OT Stout—stands for Old Town, since I live above there near downtown…plus it's a play on "oat.")
There you have it—two brewers' perspectives on the creation of this beer and the honor of it being among the special beers coming back for this one milestone year. Don't know about you, but now we're thirstily craving a taste of their malty, cookie-named triumph.