If you've ever visited the Stone Brewing World Bistro & Gardens, you know that we're pretty obsessed with where our food comes from. We only use in-season, locally, regionally, and organically grown produce. We serve grass-fed beef, free-range chicken, and we're certified by the World Society for the Protection of Cruelty to Animals as a restaurant that serves humanely-raised meat and dairy products. So we're pretty satisfied with the degree to which the Stone Brewing World Bistro & Gardens lives up to our ideals. However, there's always room for improvement, especially when it comes to health and environmental sustainability, so we've decided to take things up a notch by participating in the international movement called Meatless Mondays.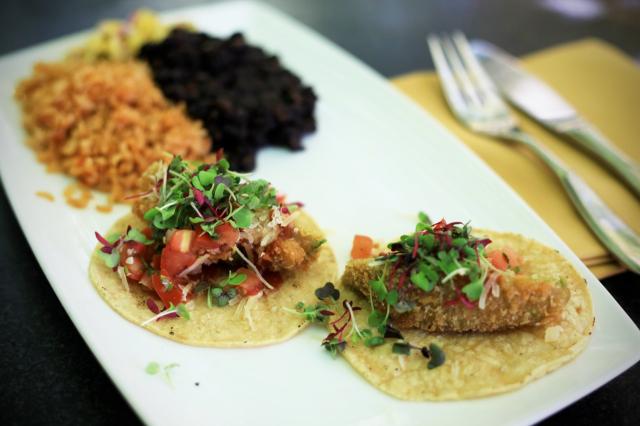 Deep Fried Avocado Tacos with Arrogant Bastard Ale batter, one of the many insanely delicious Meatless Monday's menu items at the Stone Brewing World Bistro & Gardens
Don't panic. It's voluntary. Think of us as enablers. As in, we're going to enable you to live a little longer. A little healthier. And benefit our planet in the process. You see, our society has a great challenge upon us. Over the last few generations, America has modified its eating habits at the hands of the mass marketers (we've collectively doubled per capita meat consumption has increased by 65% since 1950 in the U.S.) If you thought YOU were in control, looking at the big picture we can see that has not been the case at all. Instead, we have been doing what we've been told, and we've been fooled into thinking it was our own choice. We have been told to bite down, and Americans have said "How big a bite?" We've been programmed. The very fact that you may be feeling that the above does NOT apply to you—"I exhibit free will. No one tells me what to eat!"—is the first sign that they have you. They don't want you to know about, or to personally admit to, the manipulation. Face it, we've been owned. They told us to eat meat and processed foods. More meat. More processed foods. And we listened. We now eat more meat than nearly every other society on the planet. And our health problems have skyrocketed right along with it. However, we know you are not a mindless automaton, and we refuse to treat you like one. "But I eat only eat locally raised meat," you say. Well that's great, certainly a step in the right direction (a step we ourselves have taken.) But the distance food travels only accounts for 11% of its carbon footprint. The fact is, meat is far more energy, water, and land intensive than vegetables.  Conveniently, this means that reducing your meat intake is the easiest, healthiest, and cheapest way to minimize your personal impact on the environment. It's time that we throw off these chains of oppression.  It's time that we say "No more…you can no longer treat me like a gullible, uninformed serf of the marketers." It's time we say, "I take my health, my happiness, my responsibility to society, my life into my own hands."  It's time we celebrate the vegetable!  And to that, we offer you the opportunity to celebrate Meatless Mondays with us as a step towards a brighter future! Caution: if you howl in protest as a devout meat-eater over the lack of choice, you're marking yourself as someone who's not paying attention. You see, you are not being forced to eat meatless on Mondays. You still have the choice to request meat dishes if you so desire. However, if you'd like to be true to our mutual heritage and eat like a caveman, then you'll embrace a day without meat, as cavemen ate far less meat then we do! Lastly, in the unlikely event anyone has the idea that this is a ploy by us to make more money, please note that our vegetarian items are generally less profitable. That's OK, we'll survive...and likely so will you! EDIT: Here's a link to the Meatless Mondays menu at the Stone Brewing World Bistro & Gardens. Or, download a PDF of the menu.