A few weeks ago we took a walk down memory lane, recounting for you the many accolades and accomplishments Stone achieved over the course of 2011.  We are not content, however, to rest on our laurels.  We've now turned our sights to the future and all the amazing things we have in store for you in 2012.  Dates have been set for our annual special releases as well as all of our epic beer fests.  So read on and prepare yourself for a whole year of beer-tastic-ness.  Ale-mazement?  You get the idea… The Calm Before the Storm / Stone Winter Storm Sunday, February 5th
Be the first to sample the rare and vintage Stone brews we'll be pouring all week for Stone Winter Storm. Your ticket gets you an all-you-can-eat breakfast buffet (prepared lovingly by the culinary geniuses at the Stone World Bistro & Gardens) and a wristband entitling you to ten 4oz samples of bottled and draft beer.
Stone Old Guardian Barley Wine Vintage Celebration and Bottle Release Sunday, February 12th & Monday, February 13th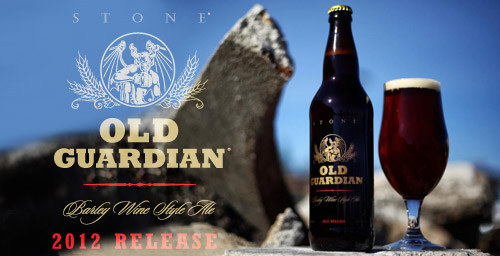 Bottles of this year's release will be available for purchase on the 13th, but you can try it a day earlier at the Stone Old Guardian Barley Wine Vintage Celebration.  We'll have 13 vintages of this perennial favorite on draft and in bottles at the Stone Brewing World Bistro and Gardens.  And at 11am, we'll be popping the tops on our VERY LAST CASE of the 1999 release, so don't be late!
Stone 2012 March Madness Homebrew Competition and AHA Rally Sunday, March 10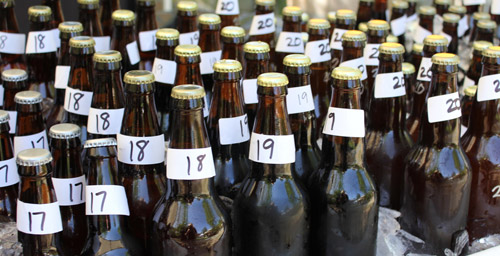 Who will be the next talented homebrewer to have their beer made into a Stone Collaboration?  Come taste from among 40 different entries and help us decide the winner, all while supporting the American Homebrewers Association. RSVPs are a must! Check out all the details on the official March Madness page!
Stone Imperial Russian Stout Release Monday, April 16th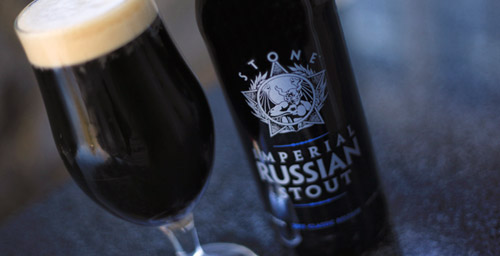 Bottles of our beloved Stone Imperial Russian Stout will be available for purchase on this date.  Experience the ultimate heights of malt-richness and hop-bitterness—and then brag about it to your friends. Finally, something IRS-related you can be excited about in mid April!
Stone Oakquinox Sunday, April 22nd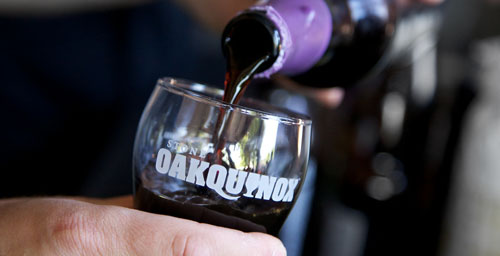 Savor the woody goodness of barrel-aged beers while relaxing in our gorgeous, sustainable gardens.  Your ticket gets you a commemorative tasting glass and fifteen 3oz samples.  There will be over 100 barrel-aged beers to choose from!
Saison du BUFFet Tuesday, May 1st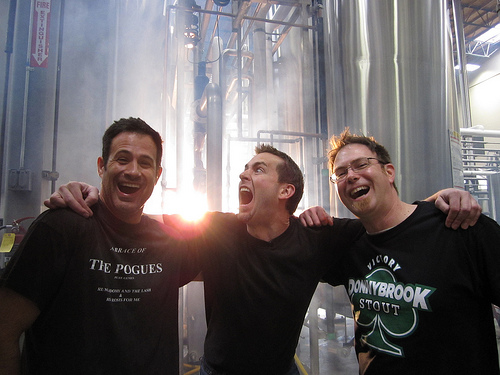 Beer professionals from all over the world will be in San Diego for the annual Craft Brewers Conference in May. Join us if you'd like the chance to enjoy some amazing food and beer in the company of folks working in the heart of the industry! We'll be serving a lavish buffet with a central theme revolving around Dogfish Head / Victory / Stone Saison du BUFF, our original 2010 collaboration (and its 2012 re-brewing!) with Sam Calagione (Dogfish Head), Bill Covaleski (Victory), and our own Greg Koch (Stone). As a matter of fact, Sam, Bill, and Greg will all be there to share the good times with you! Numerous live food stations will make up a sumptuous feast, plus we'll tap dozens of amazing craft brews, including several that were selected exclusively for this event and aren't available to the public. Explore the brewery and our beautiful beer garden while you're here--we'll have beer available in the gardens as well, so you won't have to go far to get your next taste.
Artisan Food & Craft Beer Festival Saturday, May 6th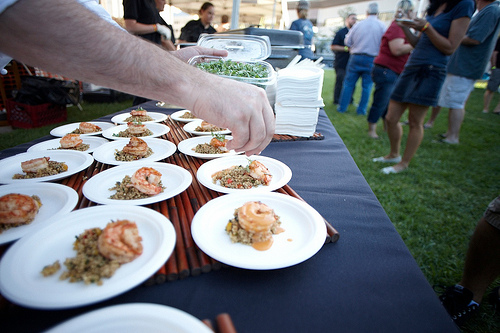 Join us in our gardens for a delicious celebration of great food and beer! Ten local chefs from outstanding eateries will each create a unique and delicious small dish, and each plate will be paired with two amazing craft beers. That's 10 dishes and 20 beers! And the best part is that in addition to enjoying a sumptuous repast, you'll be helping to raise money for a special scholarship fund. Cuisine for a cause! This exceptional festival is presented by Chef Celebration, a local organization dedicated to excellent cuisine and providing culinary scholarships to local students. Proceeds from the afternoon fund a scholarship that will enable 12 local students to attend courses at the prestigious Culinary Institute of America in Napa Valley.
Stone Late Night Movies Begin! Wednesday, June 6th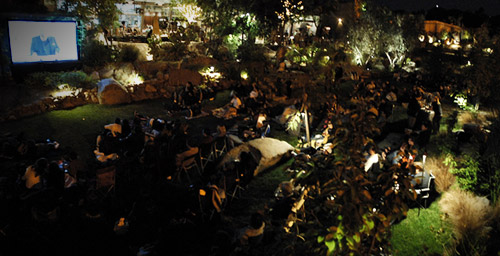 Every Wednesday until the end of August, we'll host free movies in our gardens.  Bring a blanket for lounging on the grass and arrive early, as space is limited.  And don't forget to visit our concession stand for fresh draft beers and treats from the Bistro! (BBQ Duck Burrito, anyone?)  Movie list coming soon; in the meantime, check out last year's lineup for a taste of what's in store, and be sure to follow @StoneMovies on Twitter for periodic updates.
Stone Sour Fest Sunday, July 8th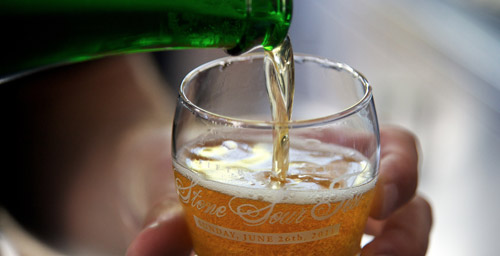 Pucker up!  For the sixth consecutive year Stone plays host to dozens of deliciously tart beers from world-renowned breweries.  If you've got a soft-spot for sours, a penchant for the piquant, a bias toward Brett, then this is the event for you!
Stone 16th Anniversary Ale Monday, August 13th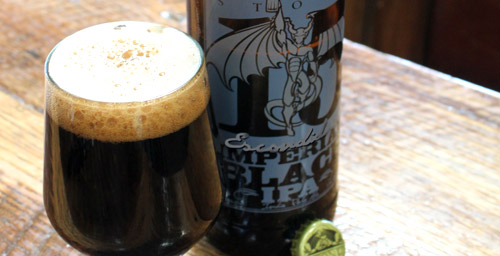 We can't tell you what style it is just yet; our brewers are still toiling away to perfect this year's brew.  But we can tell you that it will be awesome, so mark your calendars now.
Stone 16th Anniversary Brewer's Reception Friday, August 17th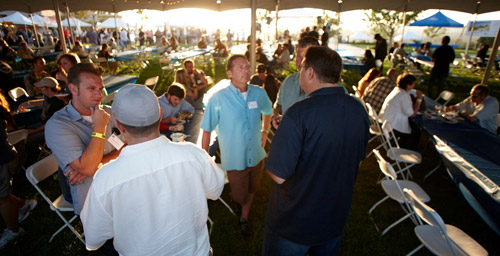 Enjoy live music, food catered by many of San Diego's finest culinary minds, and dozens of beers in a special commemorative glass, all while hob-knobbing and elbow-rubbing with the brewers who will be pouring their finest ales at our Anniversary Celebration the next day.
Stone 16th Anniversary Celebration & Invitational Beer Festival Saturday, August 18th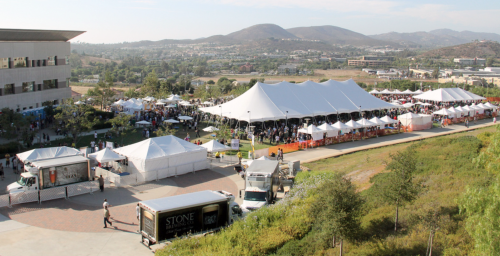 Come celebrate 16 years of San Diego's most aggressive beers.  Once again, Stone Brewing Co. takes over the Cal State San Marcos campus and invites over 40 breweries to join us for one of So Cal's most epic beer fests.  And did we mention that ALL proceeds benefit local charities?  Well, they do.  In 2011 we raised a record $240,000.  Let's see if we can top that this year!  Tickets will be on sale very soon. And, we'll also be organizing the Stone Dye-Hards for Charity event—stay tuned for details!
Stone Pour It Black Festival Sunday, October 7th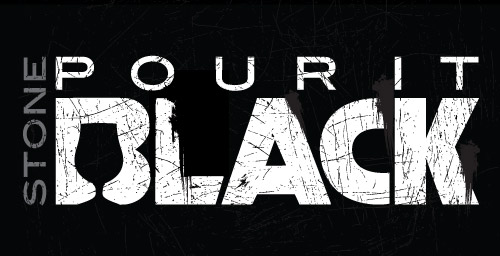 The newest addition to Stone's line up of in-house beer festivals, Pour It Black celebrates the dark side of brewing.  Dozens of stouts, porters, and even some black IPAs are on hand to please your palate.  A ticket gets you a commemorative tasting glass and fifteen 3oz samples.
Double Bastard Ale Release Monday, October 29th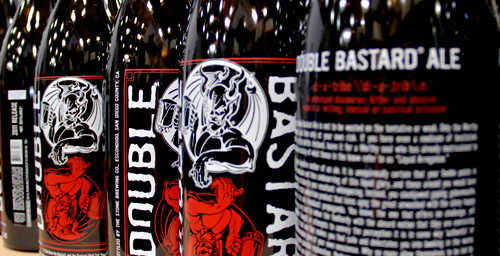 Everyone's favorite strong ale is back for its 14th year.  Trust me, you'll want to get your hands on a bottle or two (or twelve—hey, you've got to save at least a couple to cellar.  Man, does this beer age well!).  Are you worthy?
San Diego Beer Week Friday, November  2nd - Sunday, November 11th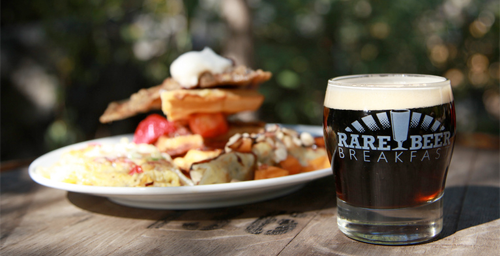 Stay tuned for a complete list of this year's offerings.  As usual, we'll kick it all off with our Stone Rare Beer Breakfast: decadent breakfast dishes of both the sweet and savory variety, served alongside dozens of hard-to-find brews.  Other events will include appearances by celebrity brewers and special tappings all around San Diego.
Stone 12.12.12 Vertical Epic Ale Monday, December 10th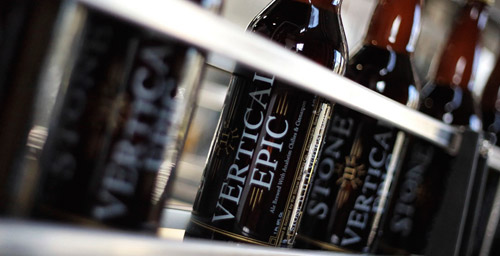 Join us at Stone Brewing World Bistro & Gardens to celebrate the release of the final installment in our Stone Vertical Epic Ale Series.  We still have eleven months to work out the details, but I assure you it will be worth the wait.
Stone New Year's Eve Celebration Monday, December 31st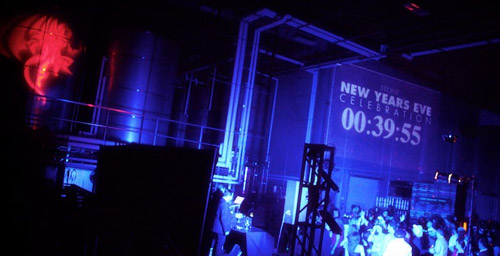 Come ring 2013 in with style.  Amazing food and desserts, awesome beer and wine, as well as some rare and vintage Stone ales—this is a night that you'll undoubtedly remember well into the new year! Check out pictures and videos of last year's event right here!