We put in a full year of planning, effort and beer wrangling to make the annual Stone Anniversary Celebration & Invitational Beer Festival the best and biggest it can be. Considering it's the largest annual beer fest on the West Coast, we're inclined to believe we do a hell of a job. We just wish it didn't go by so quick. In less than 24 hours, we blow through 364 days' worth of work and just about as many (but even more) kegs!
Take, for instance, this year. Over 50 breweries from around the country showed up and brought 187 beers. And that's all in addition to the 50 Stone beers we busted out to celebrate 18 years in the craft brewing biz! It was the kind of fete we wished every fan that helped us get to this ripe (young?) age could have participated in.
But alas, even with nearly 8,000 tickets sold (and more than a quarter million dollars raised for charity, thank you very much), some will only experience this special day via this blog post. So, we're going to go as in depth as possible so those who couldn't make it know what to expect when they hopefully come out next year, and those who did join us can have fun reliving the Stone 18th Anniversary Celebration & Invitational Beer Festival.
https://www.youtube.com/watch?v=9rjyZwndRRU
The crowd for the first session began building outside the festival gates at California State University, San Marcos (CSUSM) around 10 a.m. Thirty minutes later, that already sizeable mass had doubled. That was when we wisely opened the gates before chants of beer depravation began and people broke out their pitchforks. The space we had taken over this year was much bigger than last year thanks to recent expansions on the CSUSM campus. Sprawling across three levels and across nearly 300,000 square feet, the now placated fans had space to spare and plenty of room in which to expand their beer horizons.
But even with so much acreage, the festival grounds were chocked full of revelers within the first 10 minutes (even with Russian River Brewing Company taking on the lion's share of the initial onslaught of fest-goers thanks to dual tappings of Pliny the Elder and a pluot sour ale called Compunction). The festival was laid out so attendees could get plenty of food, music and shade on each level. Each tier was set up like its very own mini-festival, with visitors to the Rare Beer Tent being serenaded by acoustic artists Jimmy and Enrique with Steve's Cigar Lounge setup right nextdoor. (Quite the irresistible combo, no?) Down the hall from that center of hedonistic connoisseurship was an assortment of 18 other brewery booths, including our own Stone Brewing World Bistro & Gardens - Liberty Station, as well as the Steph Johnson Band, who set up a smooth, folksy backdrop perfect for enjoying good times, good beer and the ever-popular Arrogant Bastard Ale Onion Rings. (There was even a surprising side of ketchup…shh, we won't tell if you won't.). The Surfrider Foundation even set up a sunscreen booth for those of you who forgot it at home. Fortunately the sun seemed powerless to snuff out our fans' craft beer enthusiasm…but we supplied roving Ambassadors with sun-brellas nonetheless! And that was just one level!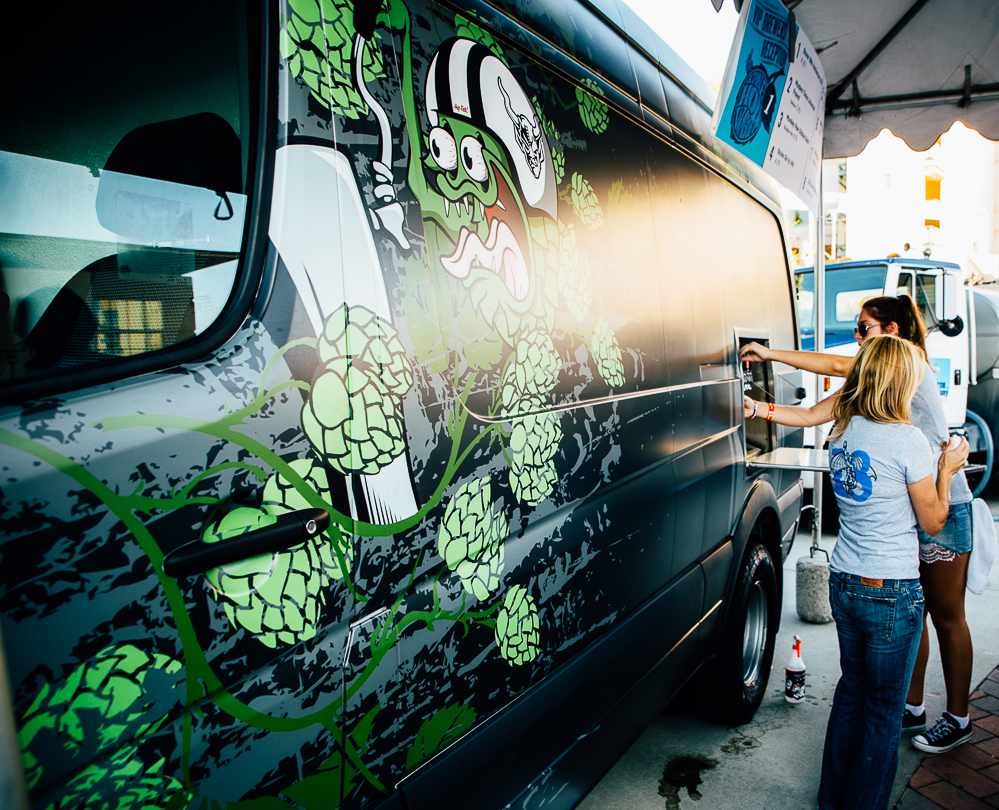 The middle level of the festival (the largest of the three) housed tons of food and other delights, like our Hop Wagons, mobile beer-serving vehicles featuring the Hop Fiend. There were plenty of ale-infused snacks ranging from Arrogant Bastard Ale brownies to Stone Imperial Russian Stout ice cream, spring rolls to sausages and Mike's Beer Cheese to home-brewed sodas (courtesy of the Society of Barley Engineers), so even the pickiest of eaters was bound to be satisfied (if the whole wide array of special beers thing didn't do that in the first place). Conversations on beer and food pairings narrowly beat out discussions on sensory evaluation (with more than a few #PairedWith scenarios shared).
Bottom line, this crowd was as knowledgeable as it was fun, and that was both and cool and gratifying for us. This level also included 12 cask beers our Brew Crew spent the past month developing just for this event. Combinations like Stone Smoked Porter w/Cacao Nibs, Pistachios, Peaches & African Basil; Stone Runiation IPA w/Pink Peppercorns, Lemongrass & Nelson Hops and Stone Go To IPA w/Lemon Zest & Vanilla.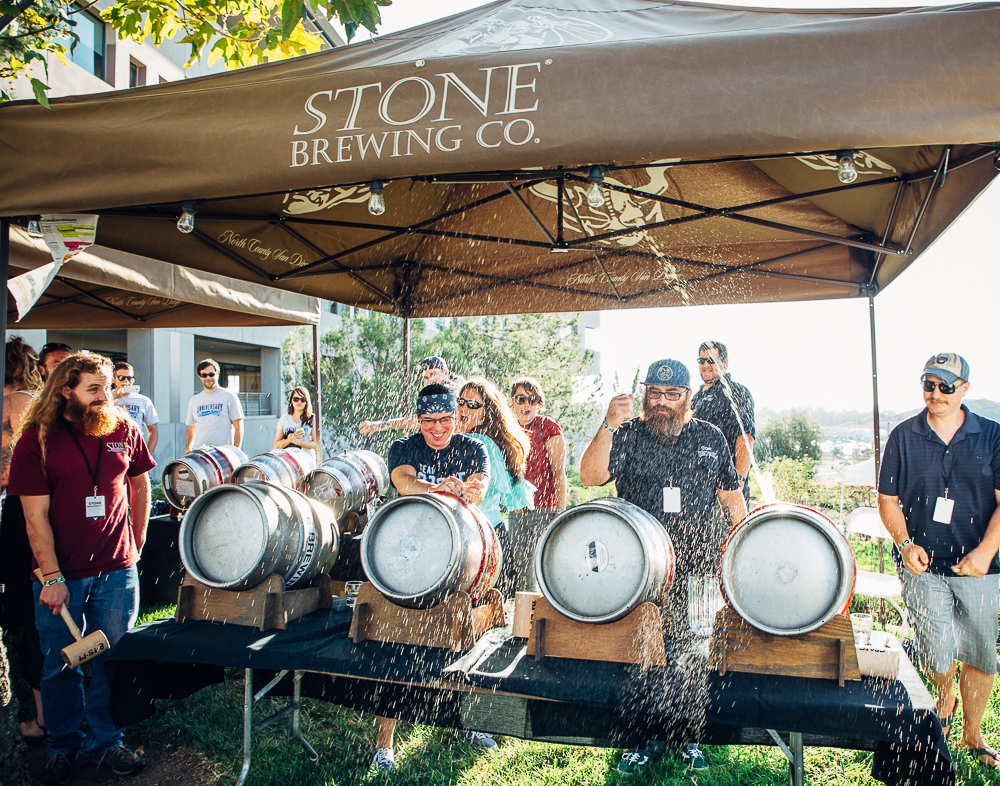 The lower level featured two more bands, Mohavi Soul and Stone's house band The Flocculators, which received a sonic boost when professional guitarist and Stone collaborator, Keri Kelli (of Kyle Hollingsworth/Keri Kelli/Stone Collective Distortion IPA fame) joined Brewmaster Mitch Steele and his crew on stage in a different sort of collaborative effort. The music paired well with the beer, which, was in fact, in the Collaboration Court along with numerous other new and archived collaborations from the past several years.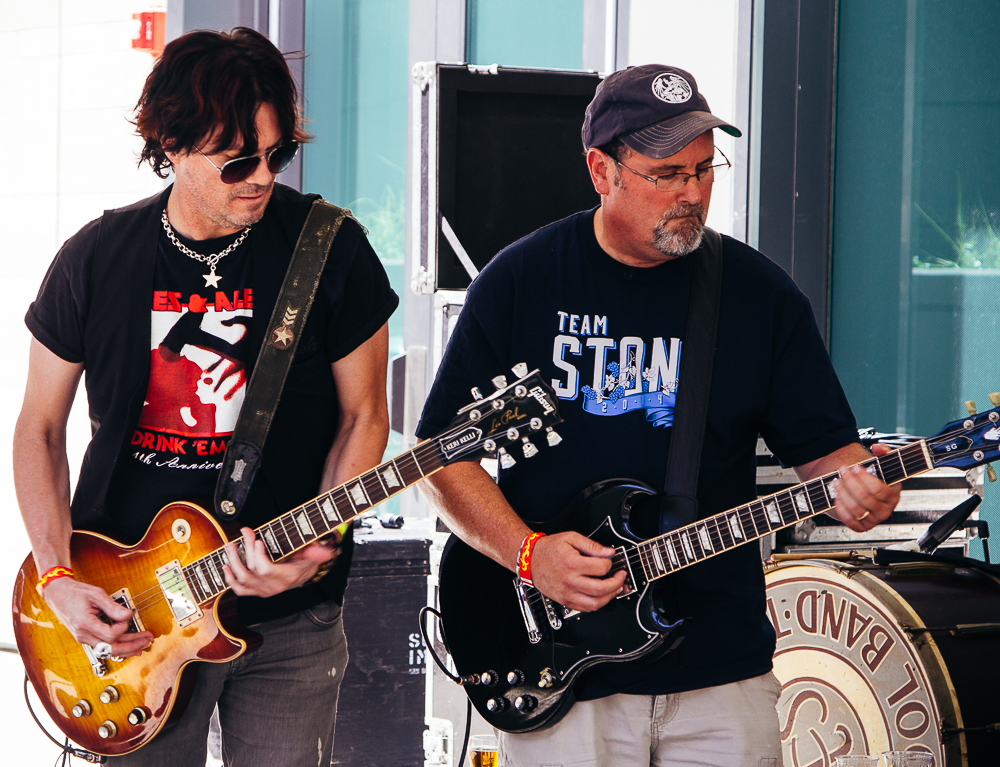 Even with all that, by far the most interesting part of the festival, in our opinion, were the people who joined us and made the event all that it turned out to be. The event space was massive, but without fans of quality craft beer to fill it, it would have meant nothing! Each year, we're happy to give everyone a celebration that is as much about craft beer as it is the people who love it. That includes those who go the extra mile. Even though our Stone DyeHards philanthropic campaign didn't happen this year (don't worry, the charities that would have benefited were included in the Anniversary Celebration donations and we'll bring back DyeHards for our 20th anniversary!) there was a noticeable presence of blue-haired beer enthusiasts.
In addition to the people with oddly colored hair, there were droves of beach-themed groups, neon yellow shirted attendees and even a few people with an entirely plaid ensemble. And, as always, the brewery t-shirts outnumbered everything else. We even set up a temporary tattoo station for a less permanent show of support.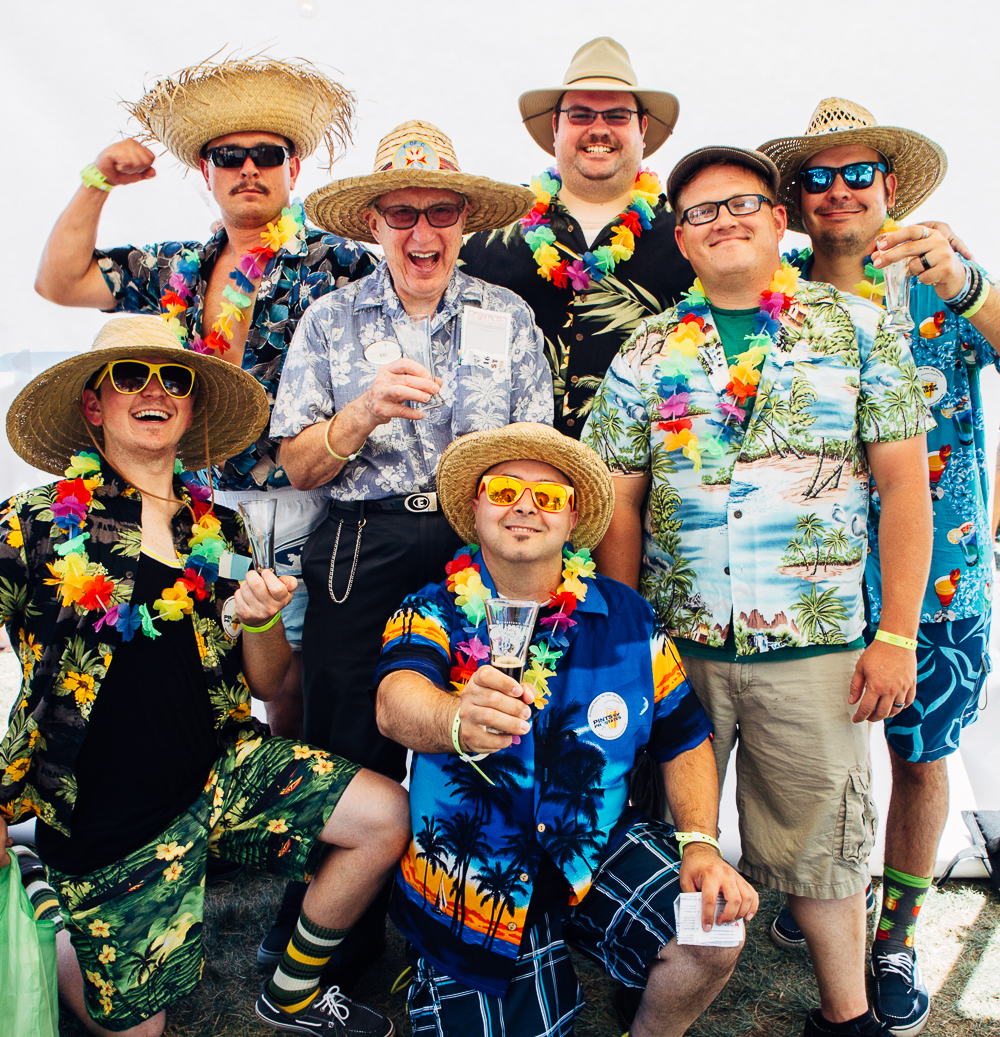 The second session played out much like the first, with an equally enthusiastic (and bizarrely dressed) crowd, and by 6 p.m., a thoroughly pleased horde dispersed happy and even more at peace with the spirit of American craft brewing affection. But us…we were already thinking about our 19th Anniversary Celebration as we tore down and cleaned up after the big one-eight. Next year's, almost assuredly will be bigger and better. We hope you can make it out to celebrate. In the meantime, keep enjoying craft beer and celebrating each day like it's something special (because it is). And keep your eyes peeled on our website and social media accounts to find out when tickets to next year's celebration go on sale.