When I was a kid, my mom had an old green Volkswagen bus, you know, similar to the one in Scooby-Doo; the iconic hippie-mobile. At the time I was really embarrassed by my mother's eccentric taste in automobiles, but looking back it made perfect sense. The beads in her hair, the penchant for woodworking, and the green VW bus all pointed to one thing—she was a TOTAL hippie. Naturally, hippies were the first thing that came to my mind when I saw The Big Green Bus pull into our parking lot here at Stone on Wednesday afternoon, leaving a pungent aroma of hash browns in its wake.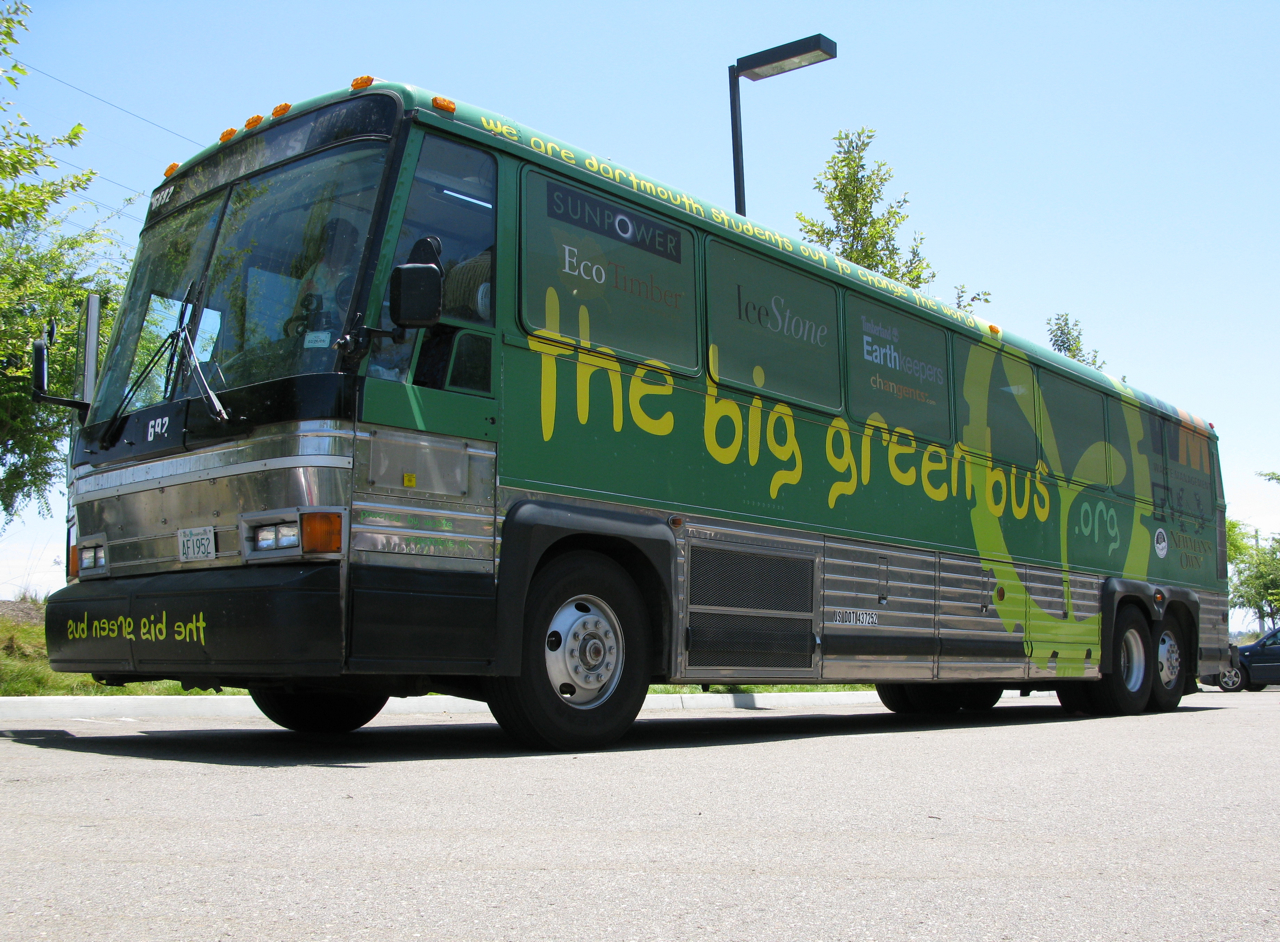 The Big Green Bus
The Big Green Bus is a full-size bus (1989 MCI Motorcoach, to be exact) remodeled by 15 Dartmouth students to be as sustainable and energy efficient as possible. The students are taking their green labor of love on a summer-long cross-country tour to raise awareness about sustainability and energy-efficient practices. And it smells like hash browns because it runs on 100% recycled vegetable oil, not because the students have a deep affinity for breakfast fare. At first glance, The Big Green Bus looks like a glorified version of my mom's old green VW bus, but that couldn't be father from the truth. "We spend a lot of time convincing people that we're not gross-smelling hippies," said one student, "most of us showered this morning." The Big Green Bus is much more than a meagerly-funded flower-child mobile with wicked green graphics. Along with running on biodiesel, the bus is also a mobile showcase of environmental conservation. Everything inside, from the low-energy plasma TV to the recycled bamboo flooring, is the epitome of energy efficiency.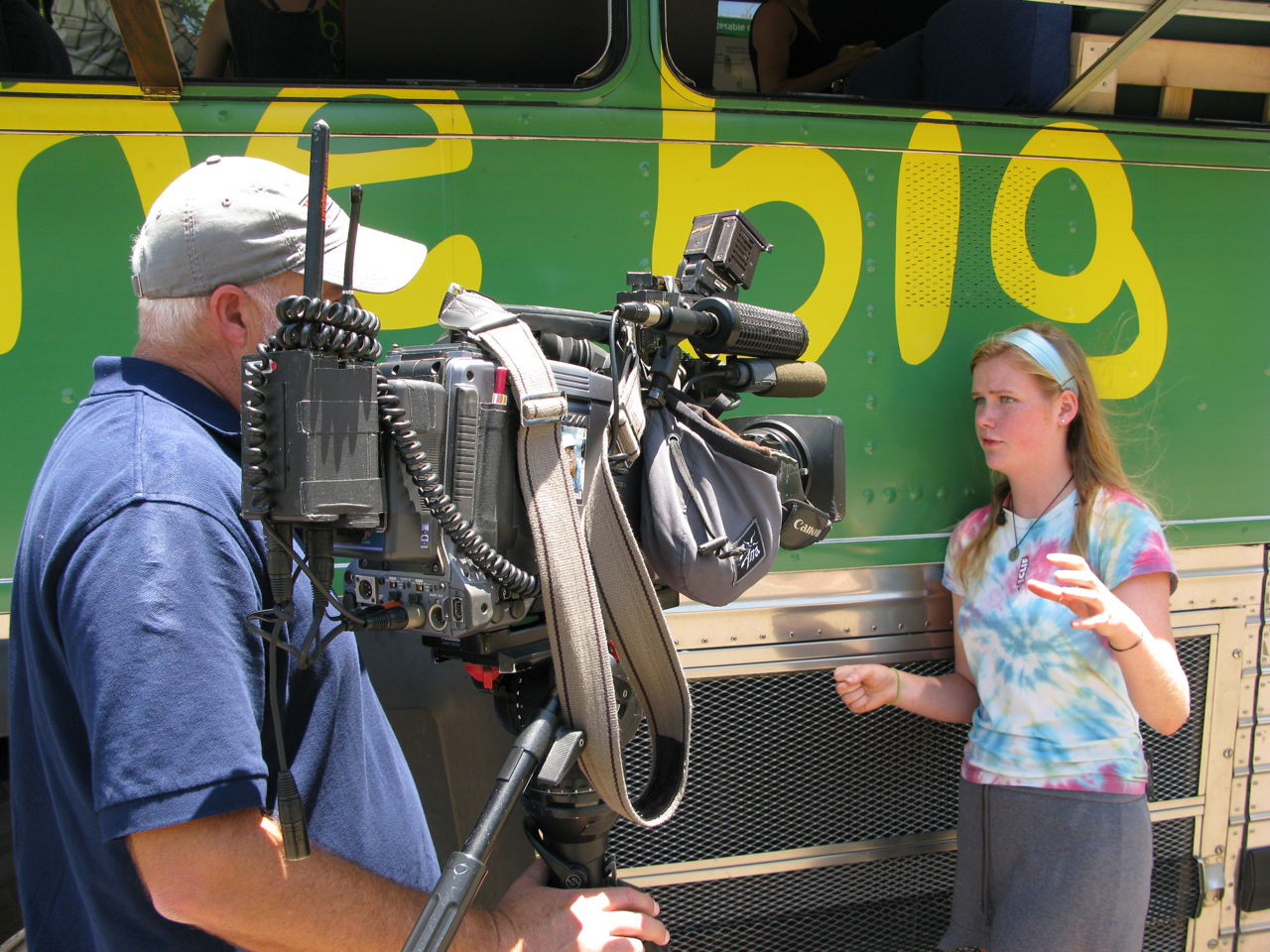 Anna, a Dartmouth sophomore from the Big Green Bus, spreading her message on the local news. The Big Green Bus is greeted by cameras wherever they go.
If a summer-long tour on The Big Green Bus sounds like a great time, think again. These kids work hard. According to Kerry, it's about 90% work and 10% play. Not exactly your quintessential summer of love. Everywhere the students go they're greeted by news cameras and general media hubbub, and Stone was no exception. Escondido Mayor Lori Pfeiler, the folks at the California Center for Sustainable Energy, and a bevy of local media joined us in welcoming them to Stone on Wednesday afternoon. So why did they come to Stone? Because they were hungry, of course (I guess word got out that our Bistro serves locally-grown, organic food). They also enjoyed a tour of the brewery and learned a bit about our solar array and our other efforts to operate sustainably. But most importantly, they came to fill up their tank with our Bistro's used vegetable oil—the same stuff that our Lead Brewer John Egan uses to power his truck.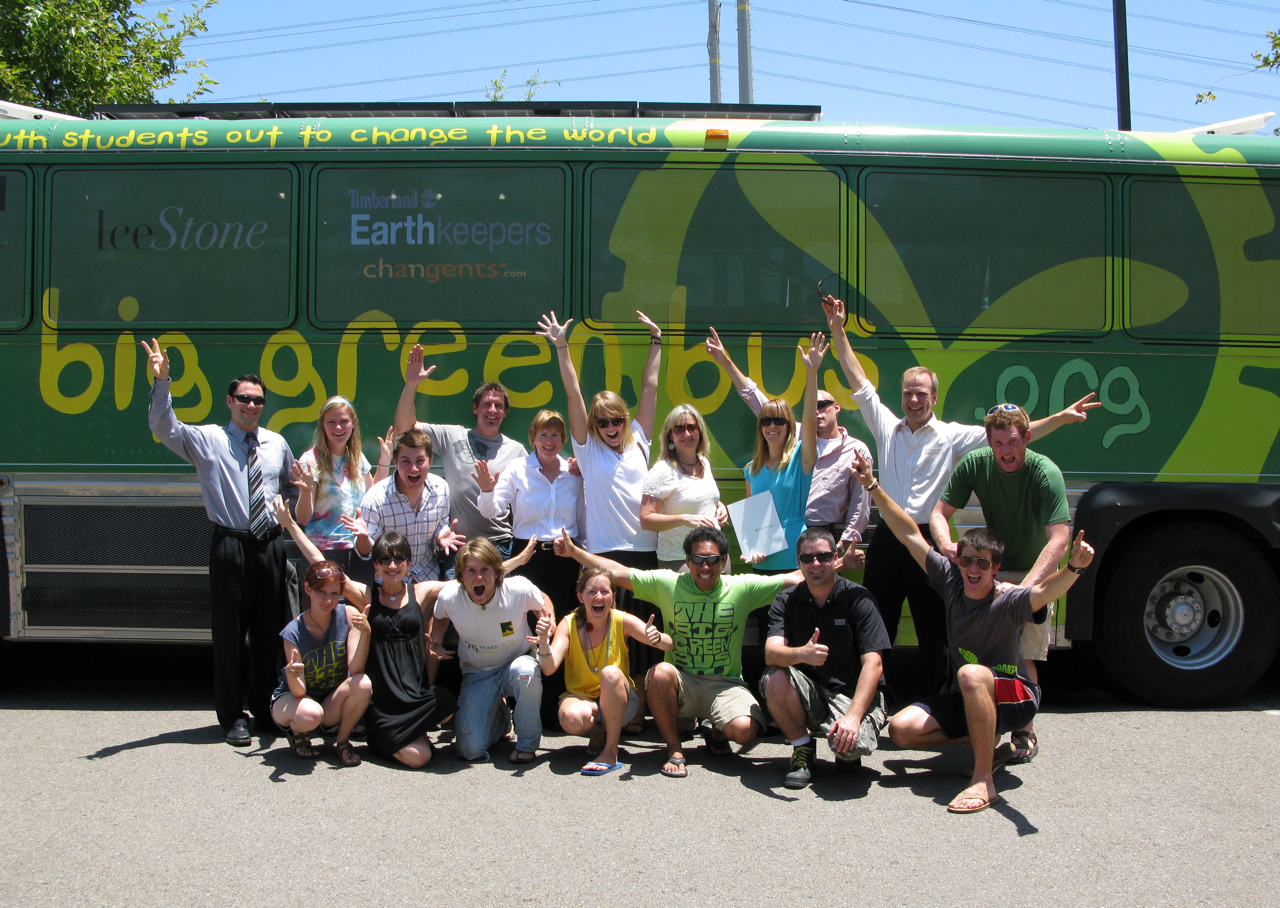 Mayor Lori Pfeiler and the folks from the California Center for Sustainable Energy joined us in welcoming the 15 hard-working Dartmouth students.
We're stoked The Big Green Bus chose to stop and share a part of their journey with us, and we're glad we could help spread their message. If you spy a lumbering green bus speeding down the highway smelling like Sunday brunch at iHop, give those hard-working Dartmouth students a honk in support. They deserve it. -Matt Steele