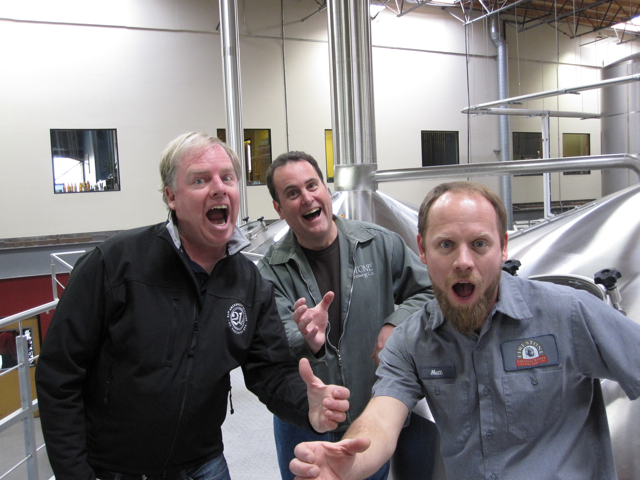 Shaun, Mitch, and Matt do "the Greg"
On Friday, we had an all-star cast of brewers in the house working on our first collaboration beer of 2010. Shaun O'Sullivan of 21st Amendment and Matt Brynildson of Firestone Walker joined our very own Head Brewer Mitch Steele for one of our coolest collaborations yet. Since this was an all-California brewing team, they decided to expand upon that theme by using indigenous California ingredients in the beer, including chia seeds, pink peppercorns, fennel seeds, and 35 lbs. of Mission figs Shaun brought from a friends' farm. The result of this momentous collaboration will be a strong black ale of distinctly Californian pedigree. Named El Camino (un)Real Black Ale in honor of the historic Spanish mission trail connecting Northern and Southern California, this beer is going to be pitch-black monster loaded with roasty, spicy flavors.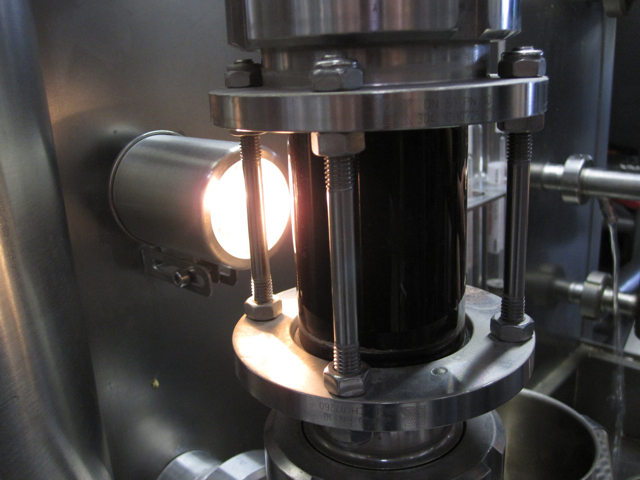 The wort was completely opaque
A friendly debate developed around the quantity of hops this luscious beast would require. Although all agreed on a selection of British hop varieties, Shaun lobbied for upping the quantities after sampling our previous collaborations (most of which, for the record, are not exactly restrained in the hops department.)  Matt begged to differ, and jested that, "Over-hopped beers are, like, so 1990s!" Mitch refereed as Shaun and Matt playfully negotiated the hop additions, chiming-in to explain the particulars of the brewhouse and the results of past experiences. Matt finally emerged victorious by brandishing his trusty Ti-89 scientific calculator to estimate the IBUs, cementing his reputation as an unparalleled process geek (post-production note: it looks like this one will clock-in around 80 IBUs.)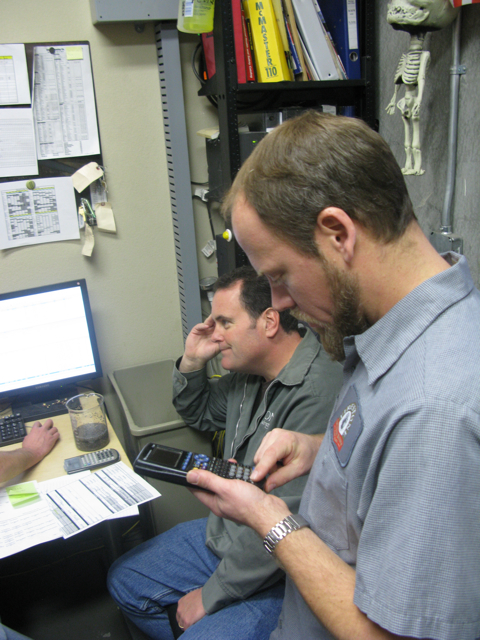 Matt busting out his trusty Ti-89
Taking the collaboration one step further, Matt brought some oak barrels down with him, which the team used to build a miniature version of Firestone Walker's famed Union fermentation system, within which 15% of this 90-barrel batch will be fermented.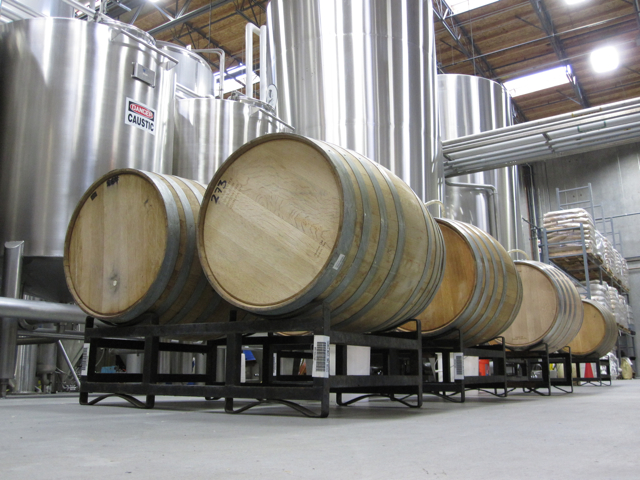 The miniature Firestone Walker Union in action
After a long day of brewing—nearly derailed by a serious bunghole issue (if you're laughing like a 12 year old right now, it's time to bone-up on your brewing terminology)—the unfermented wort was finally sampled by the weary brewers. Much to their delight, it exhibited an exceptionally smooth roastiness, which all agreed would meld beautifully with the oak from the wooden barrels.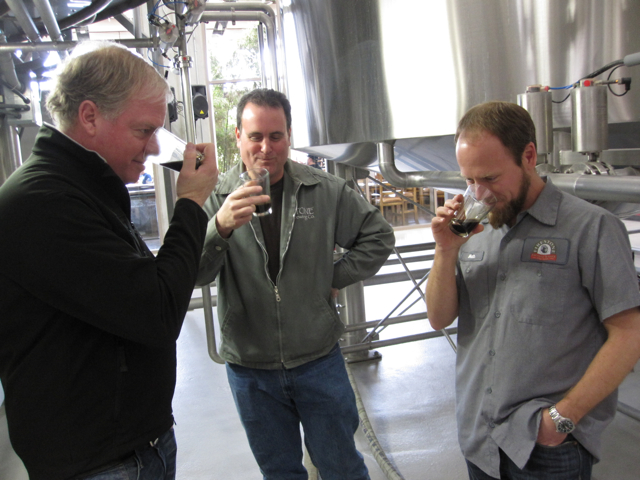 The brewers tasting the wort
The brewers ended the day by sharing beers and general merriment at the Stone Brewing World Bistro & Gardens back patio bar. Local homebrewers shared their concoctions with the brewing icons late into the night, capping another collaboration brew in appropriate fashion. Look for this beer to hit the shelves sometime in March 2010.*
*Since there's only 90-barrels of this sweet nectar being made, we probably won't be able to distribute it in every single market in which Stone beers are usually found.
More photos can be found here.