For our latest collaboration beer, Stone Head Brewer Mitch Steele joined forces with Jeff Bagby from Pizza Port Carlsbad and Chuck Silva from Green Flash to create Green Flash / Pizza Port Carlsbad / Stone Highway 78 Scotch Ale, a deliciously sweet bottle of malty goodness.  Phenomenally smooth, Highway 78's roasty, caramel notes reminded me of winter nights and camp fires, which inspired me to create something warming and hearty.
I arrived at stew right away—can we say comfort food?  But what sort of stew?  So I asked myself, "What would further compliment the awesome barley-ness of this beer?"  The answer: more barley!  Thus, Beef and Barley Squared Stew was born. The finished dish has a rich, deep flavor with a subtle sweetness from the Scotch ale and a distinct earthiness from the vegetables.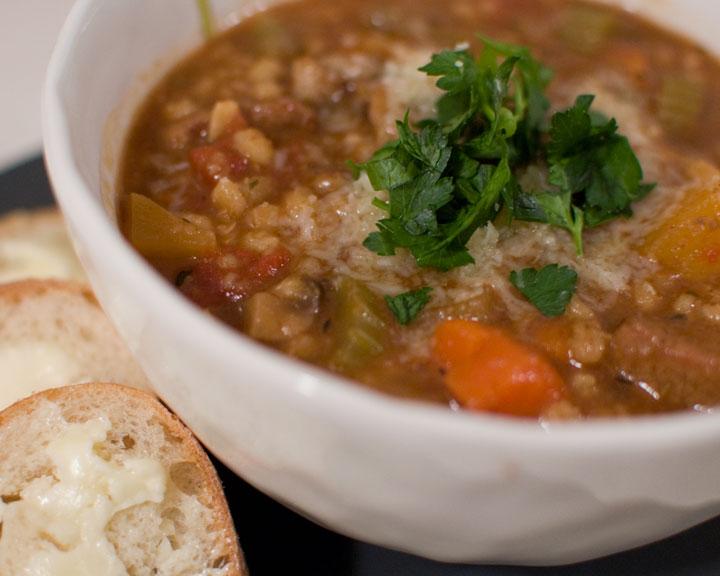 Don't you just want to drown in that delicious freakin' stew?
Feel free to play around with the seasoning in this stew but I find that, in this case, simplicity is best.  Let the wholesomeness of the ingredients shine through!
Beef and Barley Squared Stew
Ingredients
1/4 c. flour
1/2 tsp. salt
1/4 tsp. pepper
1 lb stew organic beef, cut into 1 inch cubes
4 Tbsp. extra virgin olive oil, divided
2/3 c. chopped celery (2 large stalks)
1 c. chopped onion
1 c. chopped carrot
1 c. peeled, chopped rutabaga (1 medium), equivalent amount peeled and chopped potato
2 cups cremini mushrooms, quartered
2 cloves garlic, minced
2 c. beef broth, divided
2 c. stewed tomatoes (fresh or canned)
2 c. Scotch Ale (or a 12oz bottle)
1/3 c. pearled barley
1 tsp. thyme
1 bay leaf
Fresh parsley, minced, for garnish (optional)
Freshly grated parmesan or cheddar cheese for garnish (optional)
Combine flour, salt and pepper in a large mixing bowl.  Add beef cubes to flour mixture and toss to coat.  In a Dutch oven or large, heavy-bottomed soup pot, heat 2 Tbsp. of olive oil over medium heat.  Add coated beef cubes to the oil (reserving excess flour in the mixing bowl). Brown beef on all sides, about 5-8 minutes.  Remove beef from pot and transfer to a plate.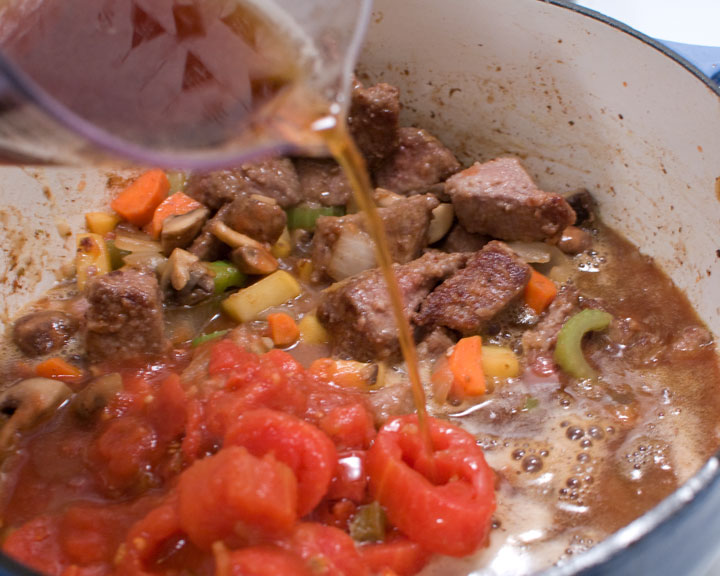 MMMMMMMMMMmmmmmmmmmmmmmmmMMMMMMMMMM
Heat remaining 2 Tbsp. oil.  Add celery, onion, carrot, rutabaga, mushrooms, and garlic to oil and cook until vegetables soften and onions are translucent, 5 minutes. Return beef to pot.  Combine 1/2 c. beef broth with remaining flour in mixing bowl, and mix until smooth.  Add mixture to pot and stir thoroughly.  Add remaining broth, tomatoes, Scotch Ale, barley, thyme and bay leaf to the pot.  Stir until well combined.  Bring stew to a boil over high heat, and then reduce heat to simmer.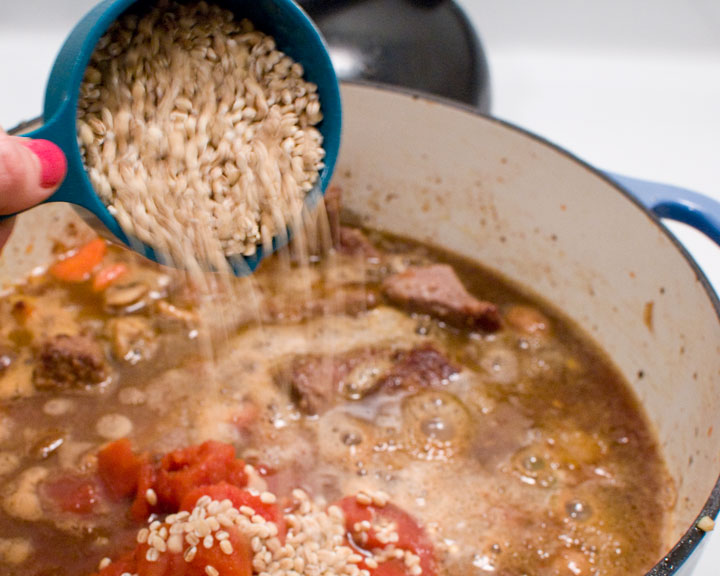 Barley. It's in beer, too. Get it?
Allow soup to simmer 1-2 hours, stirring occasionally (1 hour is enough to cook barley and beef, 2 hours will make beef much more tender.) Season stew with additional salt and pepper, to taste.  Serve in large bowls, garnished with cheese and parsley, alongside some lovely, crusty bread and butter. For a vegetarian alternative, substitute vegetable broth for the beef broth.  In place of beef cubes, coarsely chop a block of tempeh.  Prepare as with beef, dredging in the flour and cooking lightly prior to cooking vegetables. 
Cook stew for 1 hour.  Another protein choice would be to add a can of kidney beans to the stew, rinsed and drained, in the last 20 minutes of cooking time.  Adjust seasonings to taste.
Editor's Note: For more super rad beer-based recipes from Samantha, check out her fantastic blog.