by Samantha Loveira
Editor's Note: Samantha, a Stone Indoctrination Specialist and certified cooking geek, is back with another installment of her drool-inducing "Cooking with Beer" series (you can check out all of her recipes on her personal cooking blog.) This is the first of a two part vegan meal, the second half of which we'll bring you next Meatless Monday. Greetings to my fellow beer-loving gourmands! In honor of Meatless Monday (an international movement encouraging people to give up meat at least one day a week), I bring you two fabulous vegan recipes full of local, seasonal veggies. These dishes are good for you and great for the planet; dishes your mother would be proud of. By making the choice to eat local and in-season, you are reducing your carbon footprint, promoting soil health, and helping build a safer, more secure food economy. By choosing vegetarian meals (at least some of the time), you are helping prevent deforestation and the release of copious amounts of air and water pollution (see our full Meatless Monday's post for more info.) Let's start with a lovely mixed grain salad with spring veggies.  You can use whatever mix of grains you like; I used black and white quinoa and Israeli couscous.  I then topped the whole thing off with lemon-Dijon vinaigrette spiked with Stone Cali-Belgique IPA.  The hops pair beautifully with the citrus notes of the dressing and really brightens the flavors of our green veggie medley.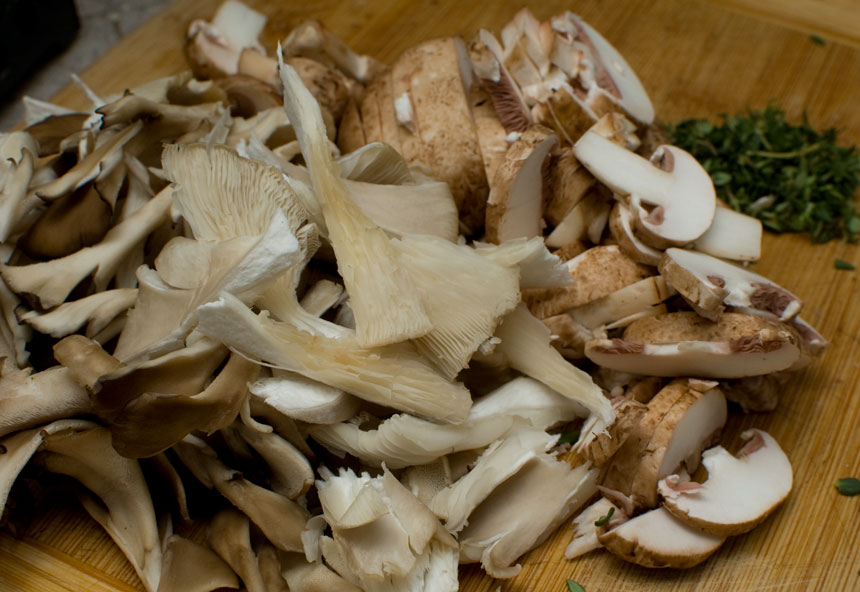 Mmmmmmmushrooms
Mixed Grain Salad with Lemon/Dijon/Cali Vinaigrette ½ c. Israeli couscous ½ c. quinoa, rinsed 2 c. water 1 Tbsp. olive oil 8 spears asparagus, trimmed into 1-2 inch pieces (about ½ lb.) 6 green onions, white and light green parts cut into thin slices 1 small clove garlic, finely minced ½ c. shelled English peas ¼ c. blanched almond slices, toasted in a pan over low heat Dressing Juice of 1 lemon 1 Tbsp olive oil 3 Tbsp. Stone Cali-Belgique IPA 2 tsp. Dijon Mustard Salt, to taste Mix all dressing ingredients together in a cruet or dressing bottle.  Shake vigorously and set aside. Mix quinoa and water in a small lidded pot. Bring to boil. Add couscous to pot and reduce to simmer over low heat. Cover and simmer for 15 minutes until water is absorbed and grain is tender. Pour into a colander and allow to cool. Heat 1 Tbsp. olive oil over medium heat in a large pan. Add asparagus, chopped green onion and garlic. Cook, stirring frequently, until bright green and fork tender. Remove from heat. Meanwhile, bring a small pot of water to boil. Add shelled peas and cook for 1-2 minutes until just tender (not mushy). Drain.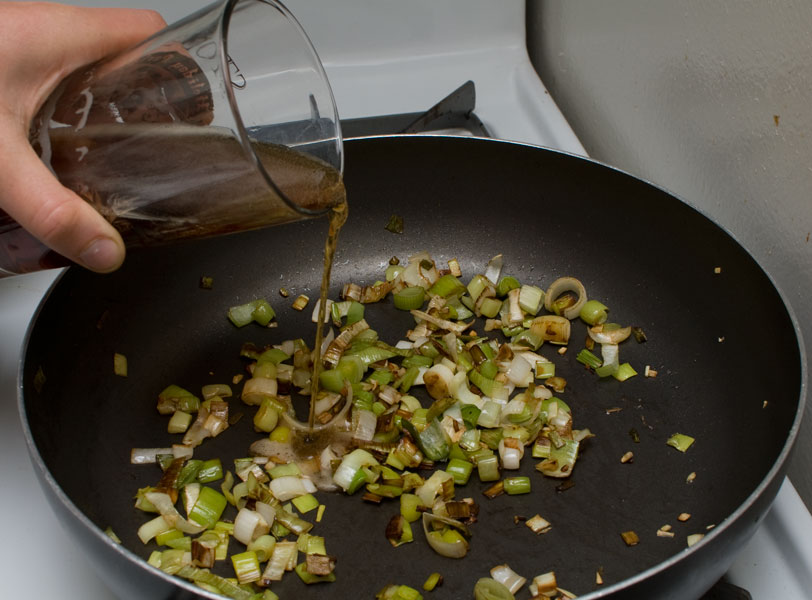 Beer makes food NOMNOM
Toss grain, asparagus/onion mixture, and peas together in a large bowl. Pour the vinaigrette on top and toss to coat. Add toasted almonds. Season to taste with salt and pepper. Chill in refrigerator, at least one hour. Pour an extra Tbsp. of Stone Cali-Belgique IPA on top of the salad (optional) and toss again before serving.
Next week we bring you a beautiful (and sophisticated looking) complimentary dish: mini-mushroom leek tarte tatins.