by Samantha Loveira
Editor's Note: Samantha is one of Stone's beloved Indoctrination Specialists (i.e. Tour Guides) and a certified hardcore beer geek. Samantha has posted some great recipes using Stone beer over on her personal blog. When we've shared them via Facebook and Twitter, fans have responded with a chorus of pleas for more recipes. Ask and you shall receive: we are pleased to share Samantha's fantastic recipes right here on the Stone blog. Without further ado, we bring you…Samantha! February 1st?  Nonsense!  Surely it must be mid-August.  The weather in San Diego has been obscenely glorious over the past couple weeks and has inspired me to get in the kitchen and cook up some delicious and light summery dishes.  You know the type—vibrant, flavorful food you crave after a long day at the beach.  Of course, in my world, cooking isn't cooking unless you're cooking with beer.  So today's recipe is for sautéed shrimp and veggies with mango avocado salsa, both utilizing that inimitable classic, Stone IPA.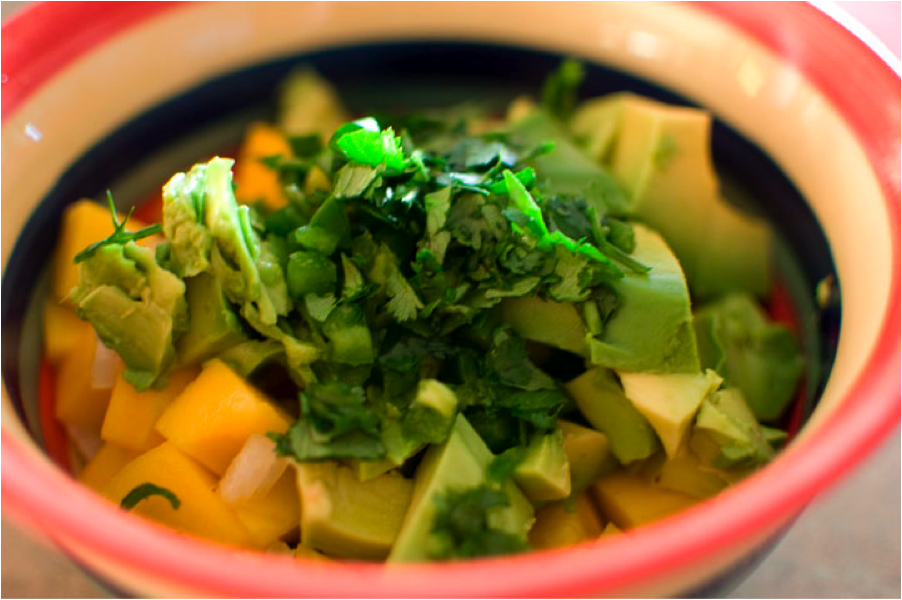 Sautéed Shrimp with Stone IPA Mango Avocado Salsa Shrimp Marinade 3 Tbsp soy sauce 1 tsp chili powder 1Tbsp olive oil 1 clove garlic 1 tsp minced ginger Juice of ½ a lime For Shrimp Sauté 1 lb shrimp, shelled and deveined 1 Tbsp butter or olive oil 1 small onion, diced 1 small red bell pepper, diced ¼ c Stone IPA Salsa ½ ripe mango 1 avocado 1 Tbsp chopped fresh cilantro ½ clove garlic 3 Tbsp diced onion ½ jalapeno, minced Juice of ½ a lime 2 Tbsp Stone IPA (use Ruination if you prefer a bolder, hoppier flavor) Salt and pepper to taste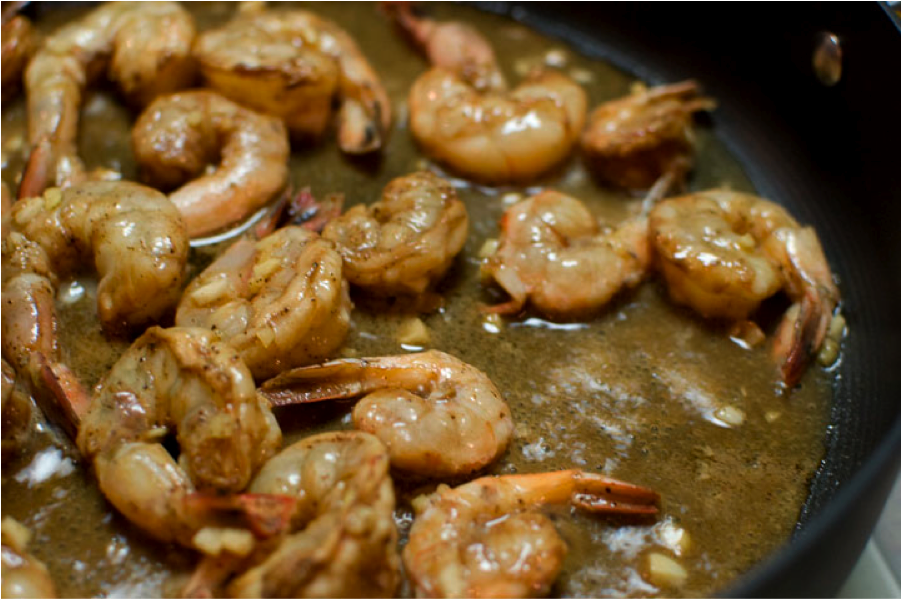 Instructions First, mix all ingredients for the shrimp marinade in a large, shallow pan.  Add prepared shrimp to the marinade and toss to coat.  Spread the shrimp out in a single layer in the pan so they really get a chance to swim in the marinade.  Allow to sit, covered, for at least 30 minutes in the fridge. While the shrimp is marinating, prepare your salsa.  Mix all the salsa ingredients, including the Stone IPA, in a medium sized bowl and mix gently (you don't want to turn your avocado to mush).  Taste and add salt and pepper, if desired.  And hey, feel free to throw in more IPA if the spirit moves you! Cover and put in the fridge to allow all those flavors to mingle. Time to cook the shrimp!  In a large pan, melt the butter or heat the oil over medium heat.  Add the onions and bell pepper to the pan and cook, stirring frequently, for 5 minutes, or until onions are translucent.  Add the shrimp and the marinade.  Cook shrimp for about 3 minutes on each side, or until they are firm and pink.  Reduce heat and let sauce simmer for a couple more minutes to reduce.  Add Stone IPA and stir, mixing in the beer thoroughly.  Cook for about 1 minute more (but not too long or the sauce will start to taste bitter!). Serve the shrimp alongside cilantro-lime rice (just add a bit of fresh cilantro, lime juice, butter and salt to cooked white rice), and top it all off with a healthy helping of mango avocado salsa.  This is a colorful dish with just a tiny bit of heat from the chili powder and jalapeno.  The flavors are bold and dynamic, the beer adds depth, and the cool salsa lends a wonderful contrast to the warm shrimp.  Enjoy!