It took us years (yep, plural, as in more than two 365-day spans) to open San Diego's largest operating restaurant in the city's Liberty Station community. Because of that site's historic status—the mixed-use development was built on the former Naval Training Center campus, which was formerly the largest U.S. Navy training site on the West Coast—there were many considerations that needed to be taken to maintain the integrity of the structure we took over, especially since we were installing a kitchen and seating for more than 600 diners at a time, but also a 10-barrel brewhouse with a 60-barrel capacity cellar.
We put a lot of thought into every single detail at Stone Brewing World Bistro & Gardens – Liberty Station, and that goes double (if not triple or quadruple…this is starting to sound like a run-down of Trappist ale styles) for the food. We knew we'd need a special talent—someone bold, determined and committed—and that's just what we found in our Executive Chef Thomas Connolly.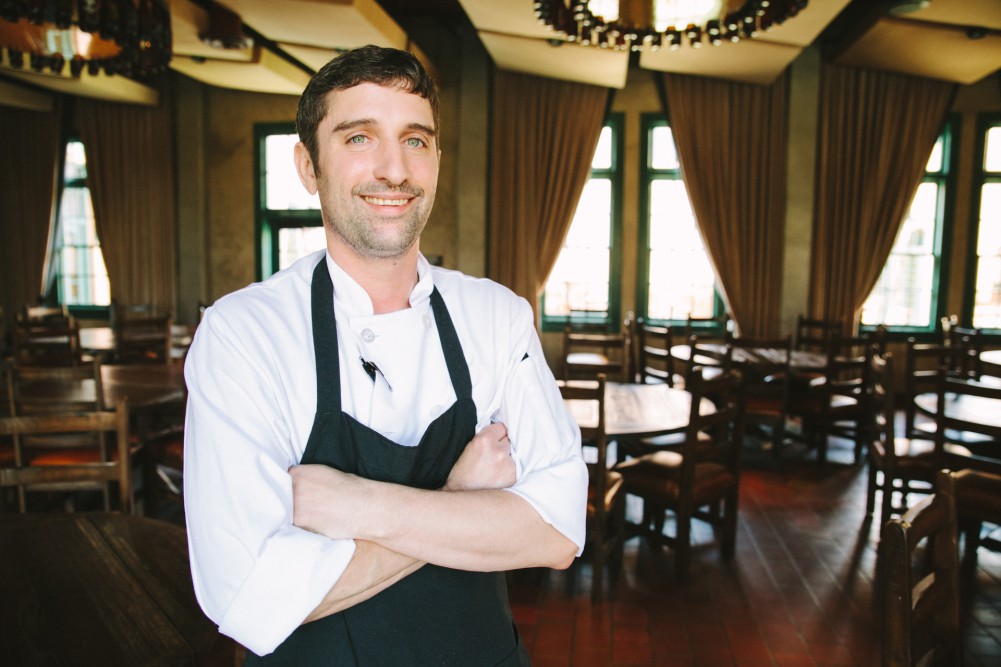 The path that led this toque to our spacious new brewery-restaurant winds from San Francisco to Hawaii and up to his most recent post at Piatti in Seattle. Along that journey, he has developed a personal repertoire that leans heavily to American and Italian cuisine salt-and-peppered with some Pacific Rim influence.
Connolly likes to take classic dishes and apply modern twists while keeping his offerings rustic in nature. Early examples of this M.O. include his spin on Korean steam buns (pictured below). His puffy, cloud-like rounds are stuffed with lamb belly cooked to tender perfection a la Mexican carnitas, as well as tangy cucumber kimchee and sweet hoisin sauce. Another new dish that's proven an early favorite are his poke tacos, yellowfin tuna tossed in a sesame-soy vinaigrette then wrapped in a fried wonton shell along with avocado and wakame (seaweed…don't worry, it's the delicious kind versus that stuff you get all tangled up in at the beach).
Other new additions to Stone Brewing World Bistro & Gardens – Liberty Station's menu include Stone Smoked Porter-braised ribs with Korean-style barbecue sauce, butter lettuce salad with Point Reyes blue cheese and orange vinaigrette, diver scallops with wild mushrooms and Okinawa sweet potatoes, and miso-glazed bass with Chinese eggplant puree.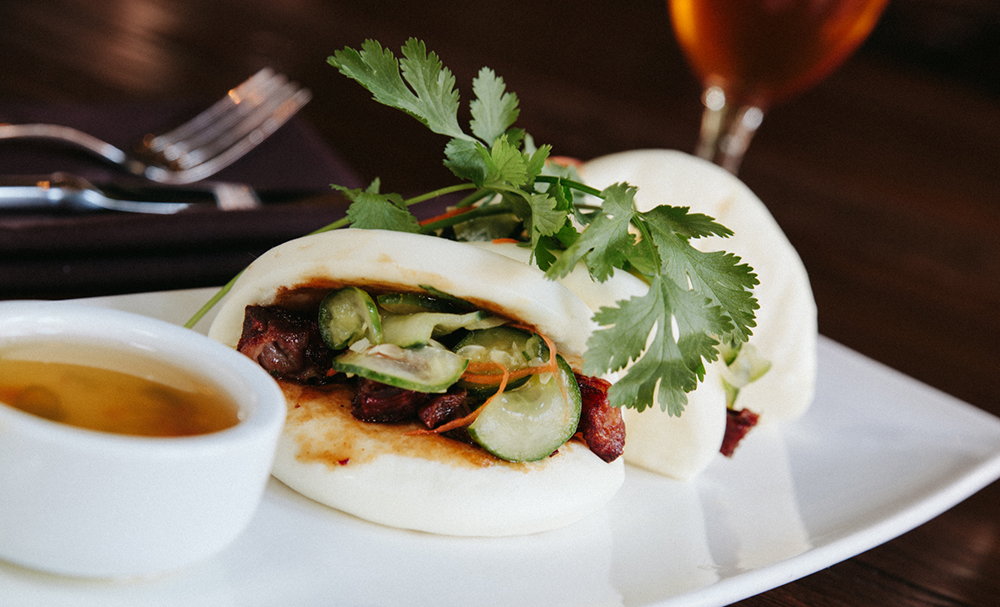 Just as much thought went into selecting our chef, Connolly devotes much contemplation to what others might see as minute details in his food. "The dishes I create tend not to have a lot to do with my initial thoughts. A 'minor' ingredient may end up being great in altering a recipe," he says. "With the steam buns, I was using a cilantro and scallion slaw that really wasn't working. I ended up tweaking the slaw to incorporate cucumbers then realized it would be a lot better with a gamier meat, hence the lamb belly. It's all about trying to put everything together in the best way, then seeing what comes out of that."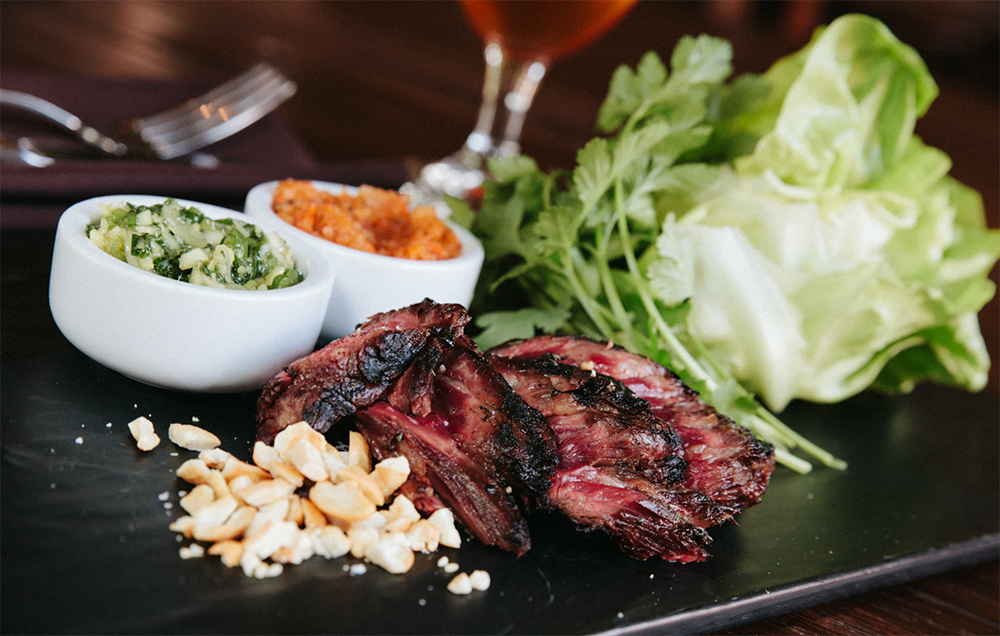 Since moving to San Diego, Connolly's fallen in love with the almost year-round availability of many top-notch ingredients as well as the many farmers markets selling fresh seasonal fruits, vegetables and more. He's particularly fond of our own Stone Farms, which funnels almost 100% of its delicious yield to our Stone Brewing World Bistro & Gardens eateries. He's already working up a list of what to have planted on our North San Diego County soil—shelling beans, haricot vert and a variety of summer squashes.
But he's not limiting himself to the homestead. Already, Connolly is venturing out to form lasting relationships with local farmers as he did back in Seattle to make sure he has the best raw ingredients for producing stellar farm-to-table cuisine.
"We offer really great beer in a beautiful building, and the food needs to be right up there with both," says Connolly. "Craft beers lend themselves tremendously well to food. Making sure the food is excellent and that we get the right pairings on the menu will help people at all levels of beer appreciation to understand that. The rest will take care of itself."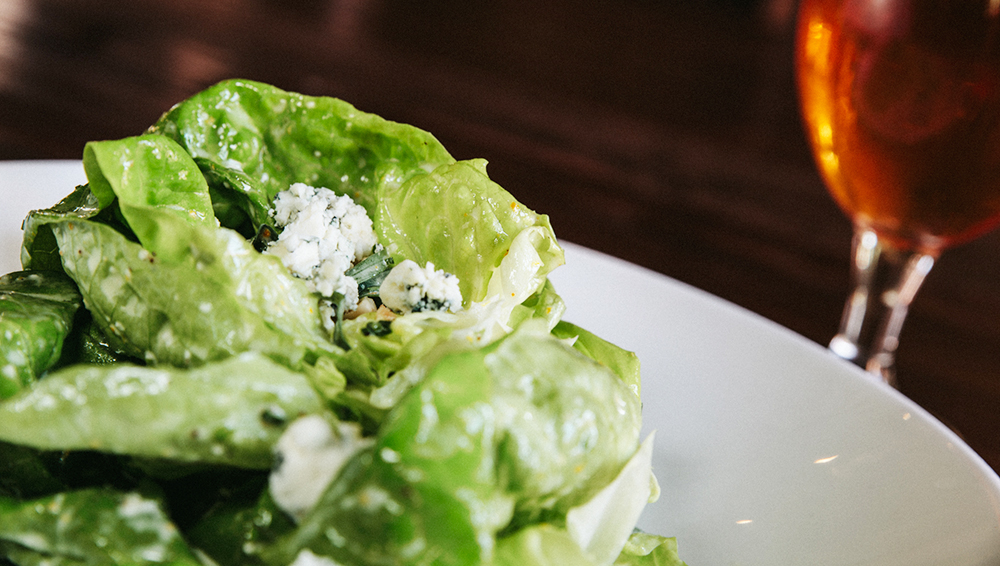 Butter Lettuce Salad with Point Reyes Blue Cheese & Orange Vinaigrette
Yield: 6 servings
1 large egg yolk
zest and juice of 5 oranges
1 shallot, chopped
¾ cup champagne vinegar
2 Tbsp honey
4 cups olive oil
1 cup extra virgin olive oil
6 heads butter lettuce, tough outer leaves removed
3 Tbsp chives, minced
3 Tbsp tarragon leaves
¼ cup hazelnuts, toasted and crushed
½ cup Point Reyes Blue Cheese, crumbled (or any high quality blue cheese to substitute)
sea salt and fresh cracked black pepper to taste
Place the egg yolk, orange zest and juice, shallot, vinegar and honey in the bowl of a blender or food processor and blend. Slowly drizzle in the oils. Place the lettuce, hazelnuts, chives and tarragon in a large bowl and season with salt and pepper. Drizzle the vinaigrette over the salad and gently toss. To serve, arrange the lettuce onto shallow salad bowls using the larger leaves to act as support for the salad. Garnish with blue cheese and pepper as desired.
—Recipe courtesy Tom Connolly, Executive Chef, Stone Brewing World Bistro & Gardens – Liberty Station