It seems like we say this every twelve months (probably because we do), but this has been a huge year for us at Stone. Perhaps the biggest yet. Things never slow down here, and that's the way we like it. Truth be told, we wouldn't know what to do with ourselves if we had a spare moment! So a heartfelt thank you goes out to each and every one of our fans for ensuring we maintain the breakneck pace we've become so accustomed to. Despite our infatuation with constant rapid progress, we feel compelled to take a moment, be it ever so brief, to reflect on the year gone by. A lot happened in our brewhouse, at our restaurant, in our community and beyond. This was a very good year, one that should be fully remembered for years to come. In that spirit, we submit to you, our valued fans, a retrospective of 2012 at Stone.
The Beer: Stone's diligent brewing team produced over two dozen different beers this year, a wide-ranging array that took our portfolio to new places while also celebrating our roots. Best examples of the latter were two special edition versions of Stone Smoked Porter brewed with chipotle peppers and Madagascar vanilla bean, respectively, which were bottled for the first time ever, and Stone Ruination Tenth Anniversary IPA, an industrial strength version of its abundantly bitter, decade-old predecessor. Stone Ruination Tenth Anniversary IPA was the first in what brewmaster Mitch Steele dubbed "the Summer of IPA." (Funny how he brewed three IPAs right before the October release of his book, IPA: Brewing Techniques, Recipes and the Evolution of India Pale Ale.) Next up was the critically acclaimed rye and lemon verbena-tinged Stone 16th Anniversary IPA followed by multiple versions of what Draft Magazinedubbed our "potentially game-changing" Stone Enjoy By IPA, a beer designed to be consumed within 35 days of bottling to drive home the importance of drinking fresh beer when the style calls for it. Other specialties included a beer brewed with thirteen varieties of hops and thirteen varieties of malt in celebration of the 13th anniversary of Seattle's venerable Bottleworks beer store, Stone Suitable for Cave Aging – An Imperial Smoked Porter Tribute to Danny Williams and a new batch of Lukcy Basartd Ale. 2012 closed out with the release of Stone 12.12.12 Vertical Epic Ale, the eleventh and final installment of a series of Belgian-style beers released on an annual basis and meant to be stored and consumed together on December 12, 2012. Our co-founders, Greg Koch and Steve Wagner, invited some of the country's most expert beer tasters from BeerAdvocate, RateBeer, New Brew Thursday and Brookston Beer Bulletin, as well as the brewmasters responsible for the Vertical Epic Ales, Mitch Steele and Lee Chase, to taste properly stored barrels and get their feedback during a live tasting broadcast online to thousands of our fans. All of the vintages had maintained their flavor and form, making this massive undertaking a huge success that was later enjoyed by beer drinkers the world over—which was our overriding goal in the first place!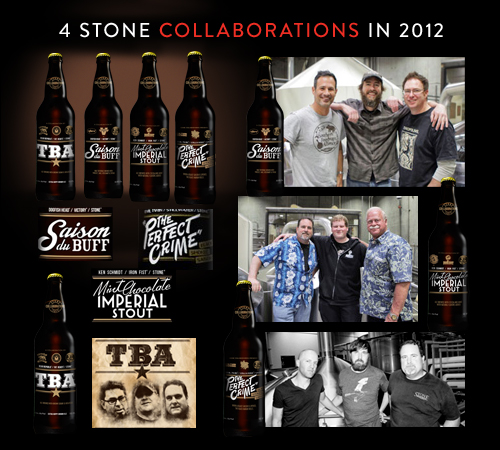 Collaborations: One of our favorite aspects of craft brewing is the hard-wired camaraderie that makes it so different from other, more competitive industries. We not only know, but sincerely like the majority of our "competitors," and some of our most memorable moments are spent rolling up our sleeves side-by-side with brewers from other companies to craft collaboration beers. This year, we added West Coast hop vibrancy to the esoteric Texas brown ale beer style with friends at NorCal's Bear Republic Brewing Company and Ohio standout, Fat Head's Brewery, creating Bear Republic / Fat Head's / Stone TBA. In the spring, Brewers United for Freedom of Flavor (Greg Koch, Sam Calagione of Delaware's Dogfish Head Craft Brewery, Bill Covaleski from Victory Brewing Company in Pennsylvania)—acronymically known as "BUFF"—reunited to rebrew the parsley, sage, rosemary and thyme-infused Dogfish Head / Victory / Stone Saison du BUFF, this time using herbs from Stone Farms. Homebrewer extraordinaire Ken Schmidt made his second victorious foray into our brewhouse, this time with Brandon Sieminski from our San Diego County neighbors, Iron Fist Brewing Company, to brew the after-dinner appropriate Ken Schmidt / Iron Fist / Stone Mint Chocolate Imperial Stout. Evil Twin / Stillwater / Stone "The Perfect Crime" Black Smoked Saison, an exotic beer borne from gypsy brewers Jeppe Jarnit-Bjergsø of Evil Twin Brewing Co. and Brian Strumke of Stillwater Artisan Ales, rounded out our tag-team efforts for the year.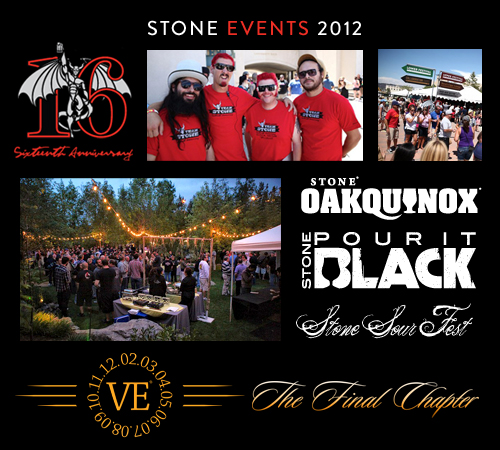 Events: When we designed Stone Brewing World Bistro & Gardens, we did so with the understanding that it would serve as ground zero for some of the most incredible beer festivals and innovative brewing-oriented events around. It has not disappointed. As in years past, our trio of year-round festivals—the wood-aged beer focused Stone Oakquinox, Stone Sour Fest and dark beer-driven Stone Pour It Black—drew fans from all over. So, too, did the Stone 16th Annual Anniversary Celebration & Invitational Beer Festival and its preceding Friday Night Brewers Reception, both of which were held on the campus of California State University, San Marcos. But arguably none of our events made bigger waves in craft beerophile waters than our Stone Epic Festival: The Final Chapter. Kicked off at 12:12 p.m. on December 12, 2012, it featured all eleven Stone Vertical Epic Ales along with edible dishes crafted to pair specifically with each individual vintage and bottles of rare barrel-aged beers. "Epic" in every way imaginable, it was the perfect way to close the book on perhaps our most ambitious brewing project to date.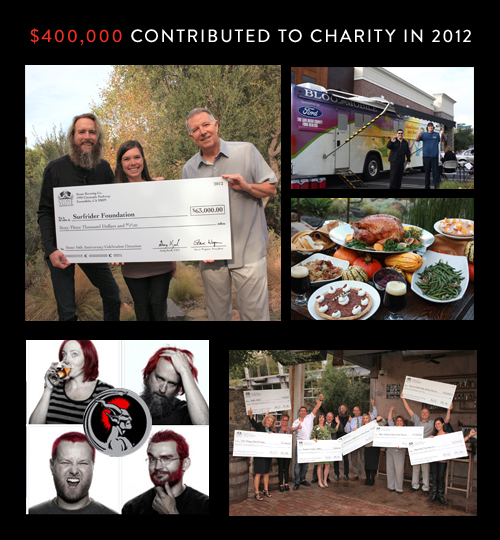 Giving Back: Stone contributed more than $400,000 to charity in 2012, thanks to fans, volunteers, craft beer industry contemporaries and our incredible Team Stone employees. That grand sum was amassed as a result of monies earned via the Stone 16th Anniversary Celebration, The Alchemist / Ninkasi / Stone More Brown Than Black IPA and the efforts of Dyehards for Charity. Charities that benefitted from these funds included Boys & Girls Club of San Marcos, Fight ALD, Palomar Family YMCA, Surfrider Foundation, California State University San Marcos Foundation, Big Brothers Big Sisters of San Diego County, ReBuild Waterbury and Waterbury Good Neighbor Fund. Additionally, Stone hosted two blood drives in support of the San Diego Blood Bank, donating 50 units of blood (equating to 150 lives saved), donated Thanksgiving dinners to residents of Casa de Amparo and US Marines stationed at Marine Corps Base Camp Pendleton, and supported more than 300 charities by donating nearly $250,000 worth of Stone beer for fundraising events. Like we said when we embarked on this quest of reminiscence, it was a huge year for Stone. If anything, 2013 is looking like it's going to be even bigger. We're happy you're along for the ride and look forward to letting you in on some of the good stuff we have in store for the New Year. Check back in January for that. You'll be glad you did!