We all know what we've come to expect from a visit to the airport, the whole experience can, and often does, inspire utterances of the phrase: "I need a beer!" Well, fliers, both frequent and infrequent, we have heard your cries and are doing our part to elevate the air travel experience with the installation of Stone Brewing World Bistro & Gardens at the San Diego International Airport (SDIA).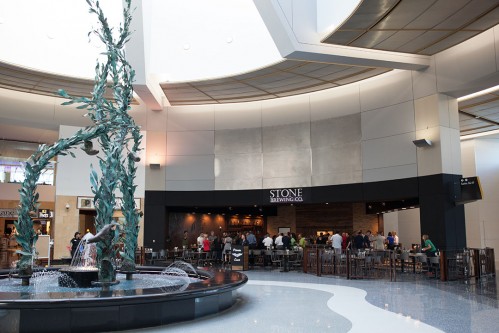 A scaled-down, 2,898-square-foot version of our Stone Brewing World Bistro & Gardens farm-to-table restaurants in San Diego County's Escondido and Point Loma communities is now open for business in the airport's newly remodeled Terminal 2 facility. Designed by architectural firm Gensler, and food service designer Orness Design Group, it features a covered bar area as well as exposed, fenced-off table seating facing a towering, oceanic-themed fountain sculpture in a courtyard just beyond the TSA security screening station. The interior is outfitted in reclaimed wood and steel in keeping with Stone's trademark "industrial-becoming-organic" design style.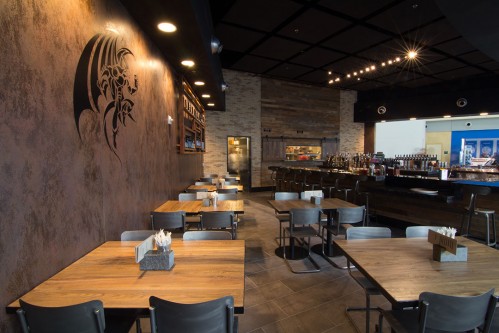 Up until now, the only SDIA options for beer drinkers looking to quench their thirst were only able to access a small handful of craft beers. Sure, air travelers can get by on that, but craft beer isn't about getting by. It's about getting in and digging deeper to find the very best. That was our mission during the years of design and development we invested in creating a craft beer oasis capable of sating aficionados and coincidental newcomers alike.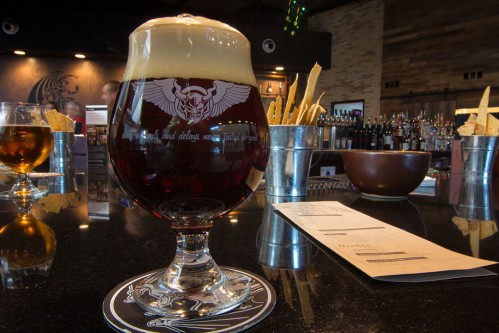 The Terminal 2 facility is outfitted with 12 taps pouring forth 10 Stone beers plus two rotating beers from other craft brewing companies. There's also a seven-strong bottle list comprised of a quartet of Stone beers and three other beers from our craft comrades. As far as those contemporaries go, expect them to be 100% local. Our current list of featured beer biz buds includes AleSmith, Ballast Point Brewing & Spirits, Green Flash Brewing Company, Lightning Brewery, Port Brewing and The Lost Abbey. We also offer a full bar stocked with a wide variety of top-shelf, craft spirits including those from Ballast Point, plus Stone's own varieties of craft soda, Red Rooster iced tea and java from local company Pannikin. It's all in an effort to provide a purely San Diego experience to visitors and locals alike, and expand the reach, notoriety and flavor of our region and our industry in the tastiest and most tasteful way possible.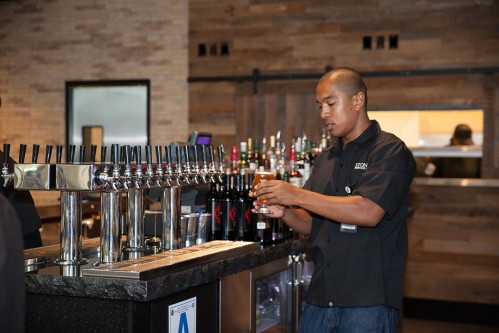 Speaking of tasty, a number of dishes from the Bistro will be on the menu at the airport. Among those are our Stone-Style Soft Pretzels; Housemade Hummus; BBQ Duck Taco Trio; Bruchetta BLT Sandwich; Artisanal Sausage Platter; Mac 'N Beer Cheese; Cheddar, Garlic & Stone Ruination IPA Soup; Citracado Salad; Brioche French Toast; Duck Confit Hash; and Granola & Honey Yogurt and Fresh Fruit. A children's menu will also be offered in an effort to decrease the number of wailing youngsters on airplanes.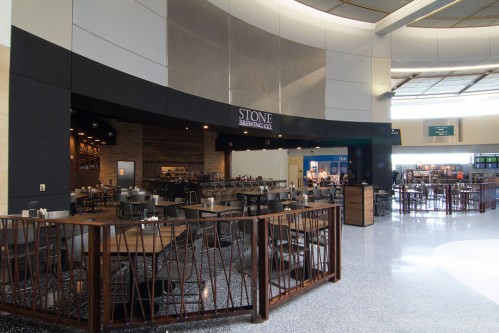 On top of this venue, multiple non-Stone bars within the airport are, or soon will be, offering our beers. So, you'll have something with which to help dilute your air-travel sorrows, toast a miraculously uneventful travel day or welcome you back from a long trip abroad. Flight delays and layovers never tasted so good!