NOTE: You must place your order at the Stone Company Store-Escondido at least one week in advance of your first pick-up date. As loyal blog readers, you are undoubtedly aware of Stone Farms, our 18-acres of beautiful farmland and oak-covered hills located just 8 miles north of our brewery in Escondido. While only about 4.5 acres of the property are actually farmable, this marvelous plot of land has thus far yielded a gorgeous array of vegetables for the Stone Brewing World Bistro & Gardens and the Stone Farms stand, which is set up right in front of the brewery every Friday from 2:30-6pm. The biodynamically managed farm has been producing a bounty of heirloom vegetables, whose remarkably vivid flavors and bright colors have been exceedingly popular with farm stand regulars.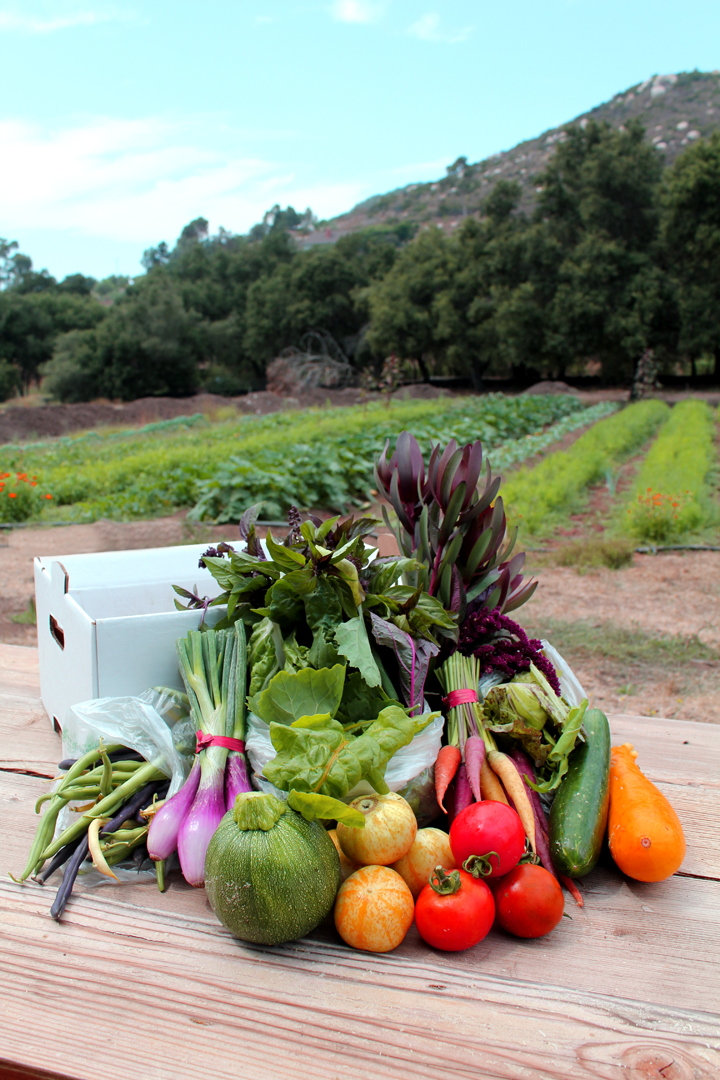 An example of a Stone Farms C.S.A. box
Now we're taking it up a notch and allowing folks to buy into a Community Supported Agriculture (C.S.A. AKA "veggie box") program. Here's how it works:
Every Thursday, the Stone Farms crew harvests veggies to be sold the next day. From the earth to your plate in under 24 hours!
The crew puts together boxes featuring a variety of these amazing veggies, generally 8-12 different items per box along with a loaf of fresh baked bread from our kitchen...about enough for 2 hungry people for a week.
You, the organic vegetable loving craft beer drinker, come to our farm stand on Fridays from 2:30-6pm and pick up your box every week for 10 weeks. The boxes cost $25 each.
While you're here, you might decide to get your growler filled with something spectacular, like Stone Ruination IPA Dry Hopped with Citra & Centennial Hops, for example. A calendar of our special Friday growler fills can be found here. These typically cost between $7-$14 depending on the size of the growler.
You return home stocked with some of the freshest veggies & beer imaginable. You rejoice, hard.
Wash, rinse, repeat.
How do you get to take advantage of this staggeringly amazing opportunity, you ask? By buying your C.S.A. share at the Stone Company Store—Escondido. It's that simple. Available while supplies last.