You know what the big problem is with being well known for playing epic April Fool's Day jokes on the public at large? The public at large starts to expect them, thus rendering such gags nearly impossible to pull off. Still, building up the status as a supremely self-righteous April Fooler was a fun process for the creative minds at Stone. Announcing we would start brewing a lemon-lime "malternative" beverage, a 27.3% ABV extra-strong ale, and a "lo-carb" beer ("Lite™" was trademarked), we've used this faux holiday to explore miles of territory we'd never tread in real life…and even some we would. On April 1, 2010, we told our fans we'd be teaming with our Scottish brewing comrades at BrewDog to craft BrewDog / Stone Luciferin Golden Imperial Stout, a high-alcohol stout coming in at 11.8% alcohol-by-volume with plenty of roasty flavor. There was just one catch—it wouldn't incorporate any roasted malts and it wouldn't be brown in color. So, basically, it would be different from every stout on the planet. Nobody with a working knowledge of calendars bought it and, though it was, essentially a joke, our brewmaster, Mitch Steele, filed that idea away and spent the next four years secretly pondering how he'd create a golden-hued stout. And we're glad he did, because now that imaginary beer has been brewed into brilliant reality. Enter, Stochasticity Project Master of Disguise.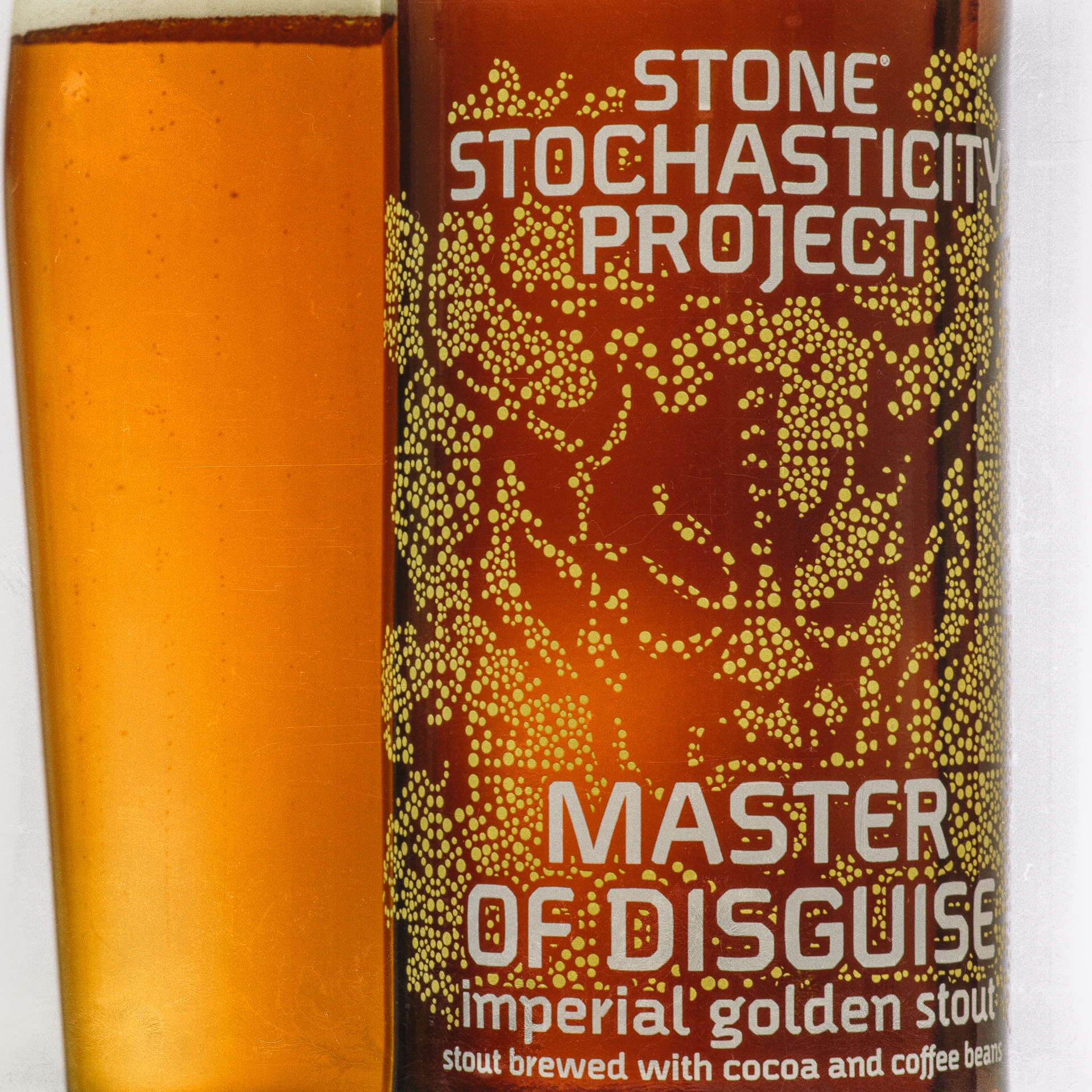 While this beer, the latest in our experimental and otherwise avant-garde series of Stochasticity Project brews, is slightly lower in alcohol than its fictitious predecessor—9.7%, to be exact—it's actually quite similar to the concept for the prank that inspired it. In teasing BrewDog / Stone Luciferin Golden Imperial Stout, we said it relied on cacao nibs and coffee to mimic the chocolaty, roast-heavy flavors of a traditional imperial stout, and pale and extra pale malts to keep the color in the lower expanses of the SRM scale (the Standard Reference Method used to grade beer's color). For Master of Disguise, Steele employed all of these tactics, and more!
https://www.youtube.com/watch?v=YO-dcKYMH7s
Steele reached out to familiar conspirators, Ryan Bros. Coffee and Chocovivo. The latter provides pure cocoa in large, thin sheets, which add tremendous chocolate character as shown in Chris Banker/Stone/Insurgente Xocoveza Mocha Stout, while the former is based a few short miles from our brewery and has contributed roasted beans for use in numerous beers, including Aleman/Two Brothers/Stone DayMan Coffee IPA, 2013 Stone ESPRESSO Imperial Russian Stout and Stone Coffee Milk Stout. The fruits of our suppliers' labors played a big part in helping Steele pull off this charade, as did the malt bill, which consisted purely of lighter varieties including Caraplis, and English amber and pale malts. Flaked oats were also added to give the beer a thicker mouth-feel more in line with what one expects from a smooth, velvety stout.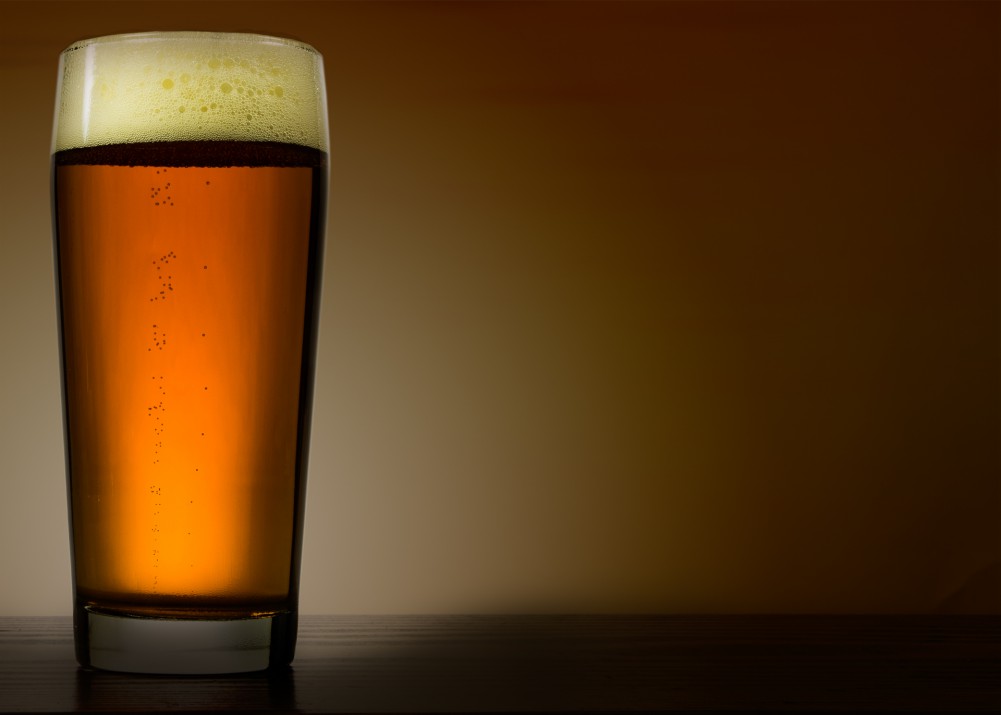 So, Master of Disguise looks like a pale ale or IPA, but there was more to this endeavor than aesthetics. The aroma, taste and composition were every bit as important—what good is a beer if it doesn't taste delicious, after all? Fortunately, the chocolate, coffee and oats did the trick with this treat of a beer, which presents notes of java in the bouquet and the front palate. Chocolate comes through mid-sip, conveyed by a slightly viscous body akin to an oatmeal stout in its creaminess, and the finish features a light yet lasting roastiness. Stochasticity Project Master of Disguise is the physically embodied proof of a lofty hypothesis. Let's just hope Steele isn't as keen to realize other Stone April Foolery like Bastard Oxide, a metal-laced energy drink, or BastardSHOTZ, 22 ounces of Arrogant Bastard Ale condensed into three ounces of gel conveniently doled into three-ounce, EZ-squeeze "Gel Pakz" for on-the-go American strong ale enthusiasts, or the canned and helium-infused Stochasticity Project CrHeam Ale.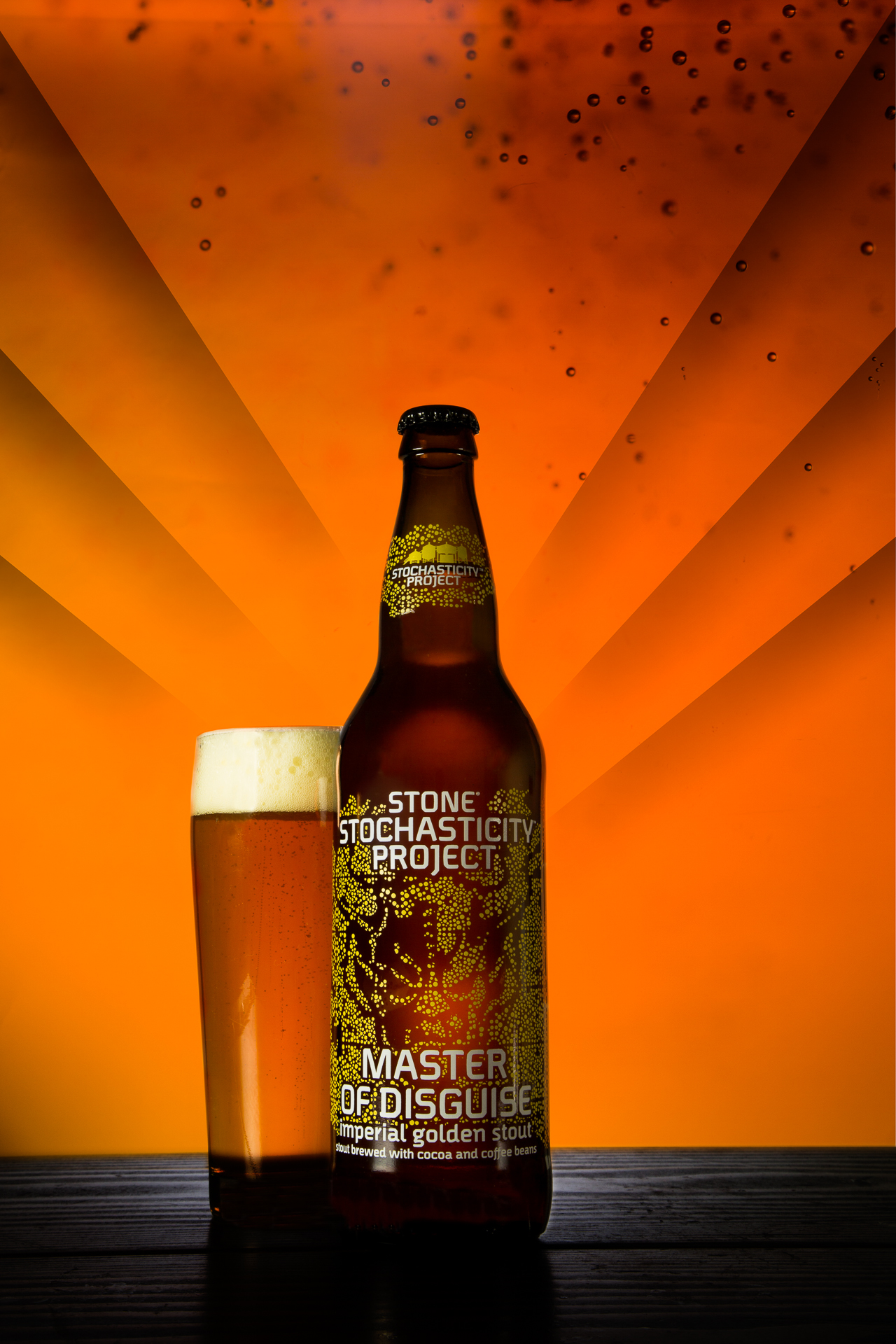 Stats & Tasting Notes by Brewmaster Mitch Steele
ABV: 9.7%
IBUs: 55 IBUs
Availability: Limited22-ounce bottles and draft, beginning November 17
Hop Bill: Liberty and Nugget
Distribution: AK, AL, AZ, CA, CO, CT, DC, DE, FL, GA, IA, ID, IL, IN, KS, KY, LA, MA, MD, ME, MI, MN, MO, MT, NC, NE, NH, NJ, NM, NV, NY, OH, OR, PA, RI, SC, TN, TX, VA, VT and WA
Appearance: Pours deep gold, with a light tan head.
Aroma: Coffee aromatics dominate. Roasted notes and cocoa play in the background, until the beer warms in the glass, and then they are pleasantly apparent along with fruity esters from the yeast and hints of vanilla.
Taste: At first, the flavor is mostly coffee and fruity esters from the fermentation. As the flavor progresses, more cocoa comes out, along with a balanced bitterness.
Palate: Full-bodied and smooth
Overall: After we brewed Stone 11th Anniversary Ale, a black IPA, someone on the brewery team joked that our next beer should be a golden stout. We then used that joke for an April Fool's gag one year, and I've been wondering if we could pull it off ever since. The resulting beer here is a rich strong ale with prevalent coffee and cocoa notes.
Suggested Pairings by "Dr." Bill Sysak
Appetizers: Bacon-wrapped dates, coconut shrimp, blue cheese-stuffed mushrooms, spiced pumpkin seeds
Soups: French onion, beef stew, lentils, chili con carne
Entrées: Lamb chops, coffee-rubbed venison, mushroom risotto, red lentil curry
Cheeses: Aged Cheddar, Maytag Blue, Grana Padano, Rogue Creamery Smokey Blue
Desserts: Brownies, vanilla ice cream, chocolate chip cookies, tiramisu
Cigars: Padrón 1964 Anniversary Series Maduro, Liga Privada No. 9 by Drew Estate, Illusione MJ12 Maduro, Arturo Fuente Opus X