Each year we up the number of beers we brew, and each year it seems like we can't do any more than we already have. Yet, each year we prove ourselves wrong! In 2014, we shattered our previous record of 74 brews with an epic 120 beers. From the tried-and-true, to the boundary-pushing, it was a big year in our brewhouse. But it didn't end with a jam-packed brew schedule. Between all these releases we planned five festivals and countless fundraisers to reinvest some love into to the community. So reminisce with us about a year that brought us amazing craft beer, thrilling times and monumental developments.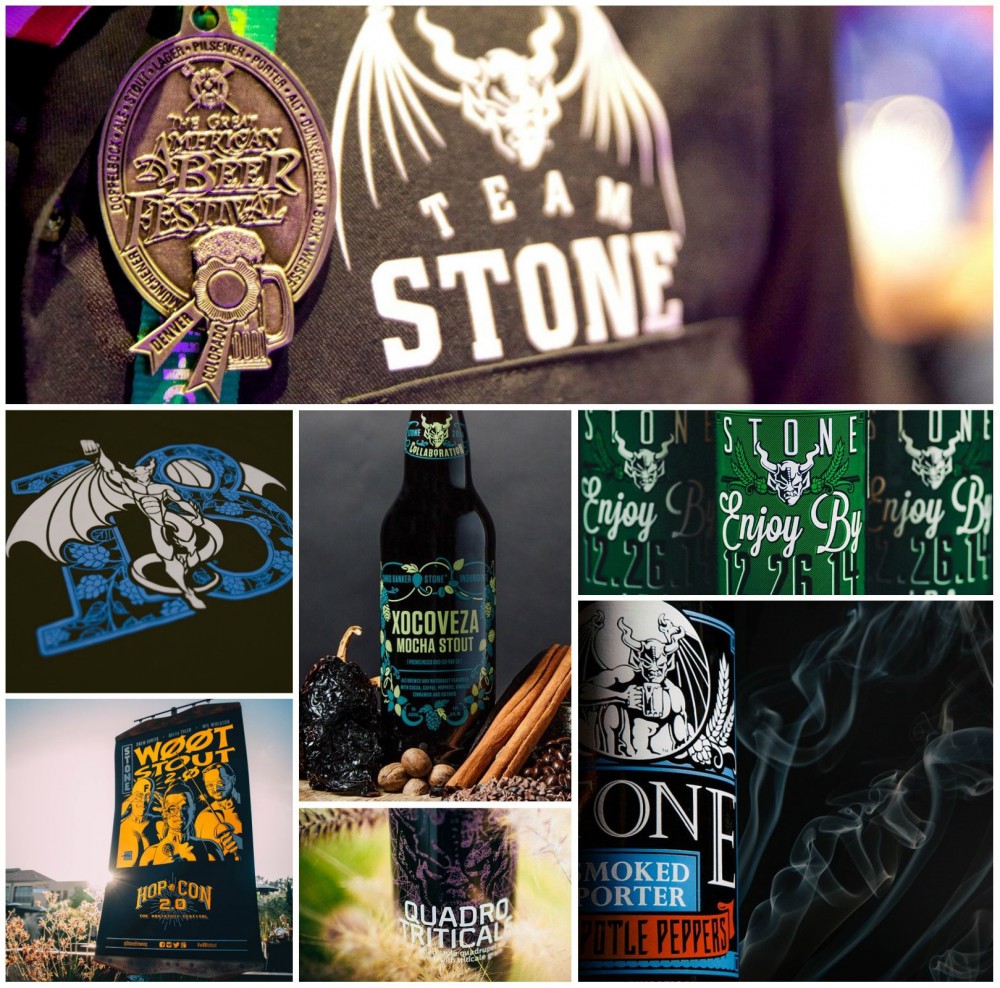 In addition to our year-round beers, we squeezed in some new yearly offerings. Stone Go To IPA, Stone Saison and Stone Coffee Milk Stout made their debut in six-packs (possible trend?) to satisfy the multi-faceted palates of our fans. Although some of these styles might be seen as a divergence from our regularly scheduled hop infatuation (which is still going strong), it was a fun opportunity to flex our brewing muscles and bring a farmhouse-style ale and java-laced stout to other parts of the country. This trend also led us to craft new variations on the surprisingly pairable Stone Smoked Porter. Stone Smoked Porter w/Vanilla Bean begat Stone Smoked Porter w/Chipotle Peppers and Stone Smoked Porter w/Chocolate & Orange Peel followed. These combinations, pulled directly from the Team Stone think tank, brought variety to our yearly beers. But, as always, we stayed true to our roots, or bines in this case, and Stone 18th Anniversary IPA reflects that. With El Dorado hops, English Brown Coffee and Chocolate Wheat malts, this IPA showed off 18 years of experience. Stone Core Beers
Stone Cali-Belgique IPA
Stone Enjoy After Brett IPA
Stone Enjoy By IPA
Stone Go To IPA
Stone IPA
Stone Levitation Amber Ale
Stone Pale Ale
Stone Ruination IPA
Stone Smoked Porter
Stone Sublimely Self-Righteous Black IPA
Arrogant Bastard Ale
OAKED Arrogant Bastard Ale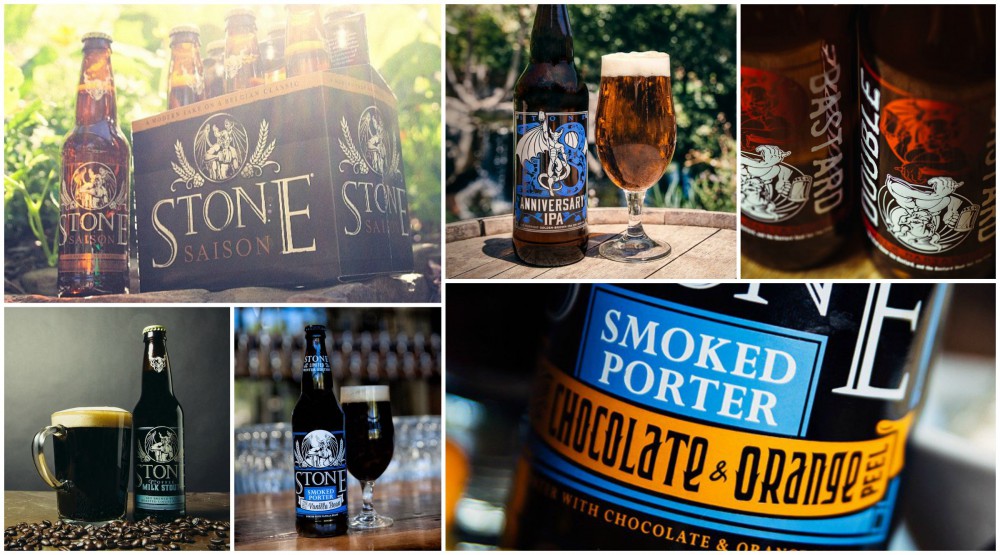 Stone Annual Special Releases
2014 Double Bastard Ale
2014 Lukcy Basartd Ale
2014 Stone Imperial Russian Stout
2014 Stone Old Guardian Barley Wine
2014 Stone RuinTen IPA
Stone 18th Anniversary IPA
Stone Coffee Milk Stout
Stone Saison
Stone Smoked Porter w/Chipotle Peppers
Stone Smoked Porter w/Chocolate & Orange Peel
Stone Smoked Porter w/Vanilla Bean
Our collaboration went beyond the community in 2014. We managed to pull together nine of our friends to create four new collaboration beers (and an IPA, or two). From rock 'n' rollers to comediennes, this was an eclectic group of people that managed to turn out some spectacular brews. First, we banded together with rocker and publican Keri Kelli and Kyle Hollingsworth, keyboardist for the String Cheese Incident, for Kyle Hollingsworth/Keri Kelli/Stone Collective Distortion IPA. An IPA with elderberries, coriander, its own exclusive song download and a beer tour, it was probably our most inclusive collaboration! From there, Beachwood Brewing and Heretic Brewing Co.helped us create the highly experimental Beachwood/Heretic/Stone Unapologetic IPA.Yes, another IPA. And with biscuit malts to help the brand new hop varieties shine, it was quite special. We also revisited Wil Wheaton and Drew Curtis' partially bourbon barrel-aged, wheat-and-rye-infused, 13.5% ABV imperial stout from 2013, adding a new element in the process. Aisha Tyler jumped on board in place of Stone CEO Greg Koch to brew Stone w00tstout 2.0, which also included stone-ground chocolate, making for an improvement on an already good thing. Continuing along the stout vein, Chris Banker, winner of our annual AHA homebrewing competition, was able to make his Mexican mocha stout recipe on our gargantuan brew system. Tijuana's Cerveceria Insurgente also joined us in brewing Chris Banker/Stone/Insurgente Xocoveza Mocha Stout. With chocolate, cinnamon, nutmeg, chile peppers and coffee, this beery take on Mexican hot chocolate quickly became a favorite among Stone fans.

Stone Collaboration Beers
Kyle Hollingsworth/Keri Kelli/Stone Collective Distortion IPA
Beachwood/Heretic/Stone Unapologetic IPA
Stone w00tstout 2.0
Chris Banker/Stone/Insurgente Xocoveza Mocha Stout
Quingenti Millilitre Beers
Batch No. 01 Stygian Descent (Stone Sublimely Self-Righteous Black IPA aged in Rye Whiskey Barrels)
Batch No. 02 Guardian's Slumber (2013 Stone Old Guardian Barley Wine aged in Bourbon Barrels)
Batch No. 03 Fyodor's Classic (2013 Stone Imperial Russian Stout aged in Bourbon Barrels)
Batch No. 04 Mikhail's Odd (2013 Stone ESPRESSO Imperial Russian Stout aged in Bourbon Barrels)
Batch No. 05 Bastard in the Rye (2013 Arrogant Bastard Ale aged in Templeton Rye Whiskey Barrels)
Batch No. 06 Southern Charred (2014 Double Bastard Ale aged in Bourbon Barrels)
Batch No. 07 Winter Harvest (Belgian-style Golden Ale aged in White Wine Barrels w/Stone Farms Merlot Grapes)
The massive amounts of new beer leaving our doors did mean that we had to cut back here and there. Our Quingenti Millitire series of barrel-aged beers, while just as interesting, was focused on smaller batches this year so that we could brew larger quantities of other beers for more people to enjoy across the country. Beers like those from our newly founded Stone Stochasticity Project. Our exploration of the science of beer has yielded some interesting, and tasty results. Stochasticity Project Grapefruit Slam IPA kicked the program off in January. Some may remember it as the popular and much-requested Stone Ruination IPA – Grapefruit Slam Edition. Other "experiments" included a Belgian-style quadrupel called Stochasticity Project Quadrotriticale, which was brewed with a rarely seen grain, triticale, and Stochasticity Project Hibiscusicity, which utilized hibiscus and orange peel to introduce a refreshing take on a Belgian golden strong ale. The most curious of these creations, however, was our recently released Stochasticity Project Master of Disguise. This golden stout has confused many with its light-hued appearance, but while the novelty might wear off, its lovely, roasty flavor is enduring.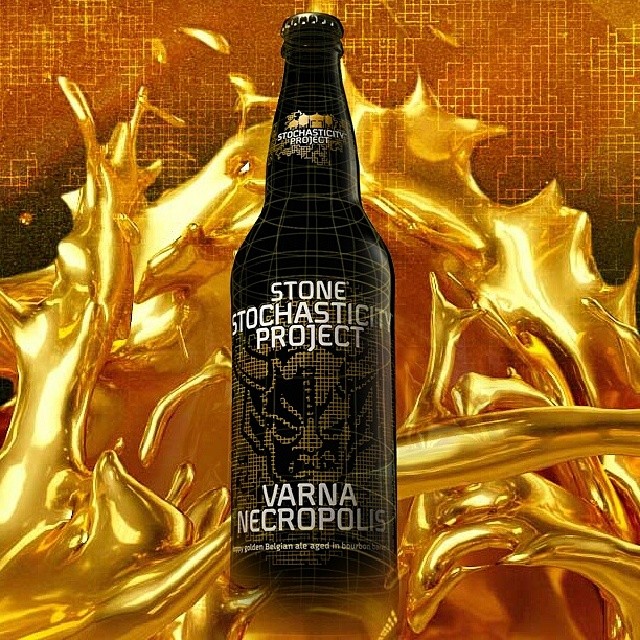 Stochasticity Project Beers
Stochasticity Project Grapefruit Slam IPA
Stochasticity Project Varna Necropolis (Hoppy Golden Belgian Ale aged in Bourbon Barrels)
Stochasticity Project Quadrotriticale (Belgian-style Quadrupel brewed with Triticale Grain)
Stochasticity Project Hibiscusicity (Belgian-style Ale brewed with Hibiscus & Orange Peel)
Stochasticity Project Master of Disguise (Imperial Golden Stout)
One hundred and twenty beers in one year is impressive, and much credit is due to Stone Brewing World Bistro & Gardens – Liberty Station for 45 of those (and counting)! They've brewed up one of the most diverse beer portfolios around. From Berliner Weisse to black barley wines and just about every style in between, Liberty Station has blown everyone away, ourselves included, however, the crowning achievement of the year goes to Liberty Station Brewing Director Kris Ketcham and his black witbier, Witty Moron for winning a gold medal at the Great American Beer Festival! Kudos, Ketcham. Kudos.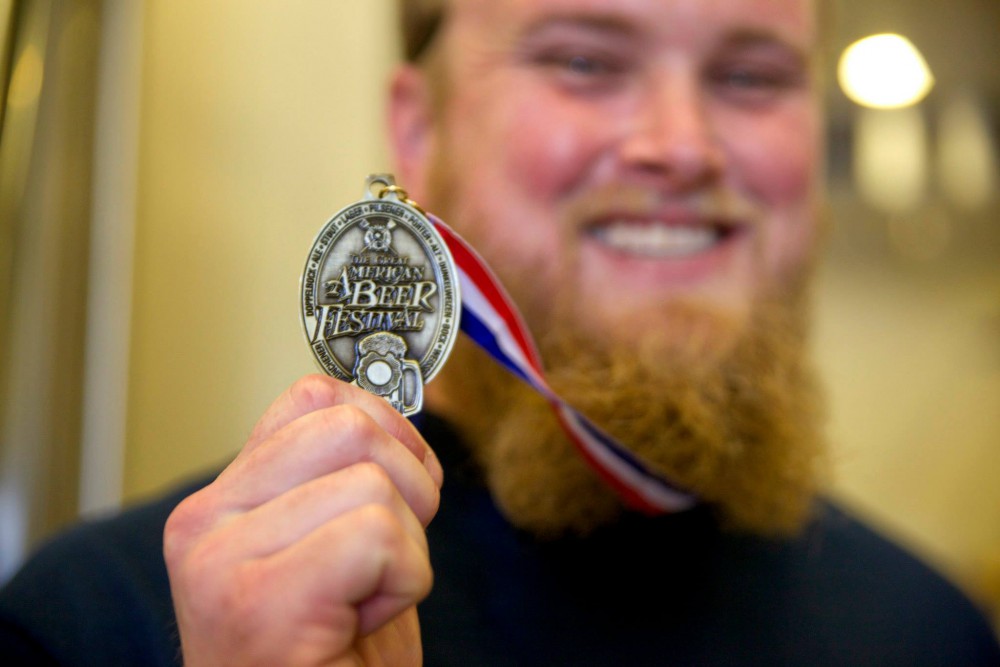 Stone Brewing World Bistro & Gardens - Liberty Station Beer
1st Anniversary Ale (Black Wheat IPA)
Amanda Vs. the Arbolcots (Saison w/apricots, chile de arbol, savory, vanilla and juniper berries)
Ashy Staché (Smoked IPA)
Bear Tales from Polaria (Single Hop IPA w/Polaris Hops)
Bottle on the Map (Style: Confidential)
Buoy 1 SD Pale Ale (San Diego Pale Ale)
Call It What You Want (Imperial Hefeweizen)
Calypso's El Dorado (Hoppy Pale Ale)
Cimmerian Portal (Foreign Export Stout)
Colonel Sykes East India Porter
Distribute Tribute (San Diego Pale Ale)
Galileo's Four Moon Brew (Blonde Ale)
Going Red (Belgian-style Ale w/Hibiscus & Orange Peel)
Great Bowman's Beard (Scotch Ale)
Hop Squander (Experimental Hop IPA)
Hot Lil' Miami Tart (Berliner Weisse w/Mango, Guava, Passion Fruit & Spicy Chilies)
ImperiALS Red (Imperial Red Ale)
Kick Rocks (English-style Mild)
Liberty Cliché (Blonde Ale)
Life Blood (Brown Ale)
Master of Disguise (Golden Stout)
Mättzen (Märzen)
Mimic (Belgian-style Dubbel)
NANO Acrana 10-9 (Red Rye Ale)
New Desecrator (Black Barley Wine)
OK When Hoppy (Hoppy Lager)
Operation: Homefront IPA
Sesquipedalian IPA (Triple IPA)
Simcoes for Sartori (Single Hop IPA w/Simcoe Hops)
Slapping Violets (Blueberry Basil Kölsch)
Some White (Hoppy Belgian-style Witbier)
Spiced Unicorn Milk (Chai Milk Stout)
Stone Farms Fresh Hop Ale
The Lupulin Loop: Comet (Single Hop IPA w/Comet Hops)
The Lupulin Loop: Dr. Rudi (Single Hop IPA w/Dr. Rudi Hops)
The Lupulin Loop: Jarrylo (Single Hop IPA w/Jarrylo Hops)
The Lupulin Loop: Topaz (Single Hop IPA w/Topaz Hops)
The Sacred Druid (Scottish Ale w/Lemon Verbena & Tart Cherries)
The Tao of Sage IPA (White Sage IPA)
Unicorn Summoning Ale (Hefeweizen)
Unite Pale Ale (Rye Pale Ale)
Vallantine IPA
Wee Erky (English-style Bitter)
Witty Moron (Black Witbier)
Harrowing IPA
If this seems like a lot of beer to brew in a year, take a look at all the beers we didn't even mention. One of which was the most unexpected and meaningful beer brewed this year, Rising Phoenix Pale Ale. The May fires that raged across North County San Diego destroyed a number of homes and almost took our brewery with them. We held an event to release this beer and thank first-responders and firefighters for the work they did for hours on end to protect us. The community pulled together to rebuild, and in that spirit we were able to generate $25,000 in donations through sales at the Stone Company Store Escondido and Rising Phoenix for a fund by the San Diego County Council of Firefighters.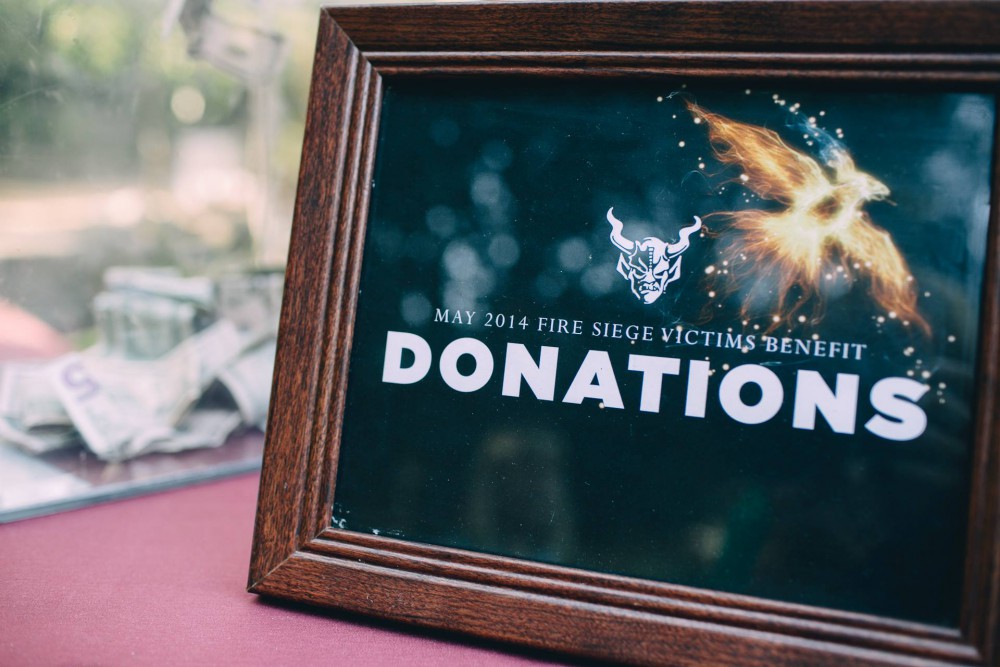 Stone Spotlight Series Beers
Spröcketbier Black Rye Kölsch-style Ale
Team Marshall Lake American Strong Ale
Team Storm Brain Oatmeal Porter aged in Bourbon Barrels
Team Awesome Admiral Fuggle Nuts Imperial Hoppy Brown Ale
Team DG and ST Float Cream Stout
Team Easy Street Imperial Brown Ale w/Cinnamon Sticks & Toasted Coconut
Team Filly Whi$perer$ Sour Saison aged in Blush Wine Barrels
Team Hopgistics Smokey RyePA
Team Jerry Bloodstone Brown Barley Wine w/Cherrywood
Team Livin' Large Belgian Quadrupel aged in Bourbon Barrels w/Cherries & Plums
Team Mercury Allons-y! Petite Quad
Team Palate Pleasers REDemption Ale
Team Pastorianus How Ya' Livin' Black Lager
Team #Ratchetsquad Biere de Garde w/French Vanilla & Lavender
Team Sharks with Frickin' Laser Beams Witty & Bitter White IPA
Team Thunderdome Lord Humungous Double IPA
Team Unicorn Flower Power Unicorn Imperial Lavender Berliner Weisse
Team Wingnut Brother Wingnut's Belgian Rye Tripel aged in White Wine Barrels w/Lemongrass
Stone MixTape Ales
Stone Mixtape Ale vol.9 - Goats in the VIP Room
Stone Mixtape Ale vol.10 - Blend From Another Planet
Other Stone Specialty Beers
The Arbalest (Belgian-style Pale Ale aged in Bourbon Barrels)
Bang Bang (Red Ale aged in Bourbon Barrels)
Matt's Burning Rosids Imperial Cherrywood-Smoked Saison
Passion Project (Belgian-style Abbey Ale aged in Red Wine & Rosé Wine Barrels w/Stone Farms Passion Fruit)
Rising Phoenix Pale Ale
Rojo Bolo (Red Ale)
Stone Delicious IPA
Stone Gratitude IPA
Stone Just Because IPA
Stone "The Tiger Cub" Saison aged in White Wine Barrels
While these beers are great on their own, half the fun of making them is putting on festivals to show them off. We started off with Stone Oakquinox, a veritable feast of barrel-aged brews from around the world. Stone Sour Fest followed in June, with plenty of our mouth-puckering favorites. Hop Con 2.0 celebrated Stone w00tstout 2.0 and featured beers brewed at Liberty Station from Wil, Drew, Aisha and some of their beer-loving compatriots. We closed out the year with the darkest event in our repertoire, Stone Pour It Black. Over a hundred of the duskiest brews from around the world gathered in October, with almost all of the styles represented. But our favorite festival of the year, the Stone 18th Anniversary Celebration & Invitational Beer Festival, topped them all. Over 100 beers and thousands of people translated to $270,000 in donations for charities, which tipped us well over $400,000 for the year.  Boys & Girls Club of San Marcos, Fight ALD, Palomar Family YMCA, Surfrider Foundation and the California State University San Marcos Foundation were a few recipients of those funds.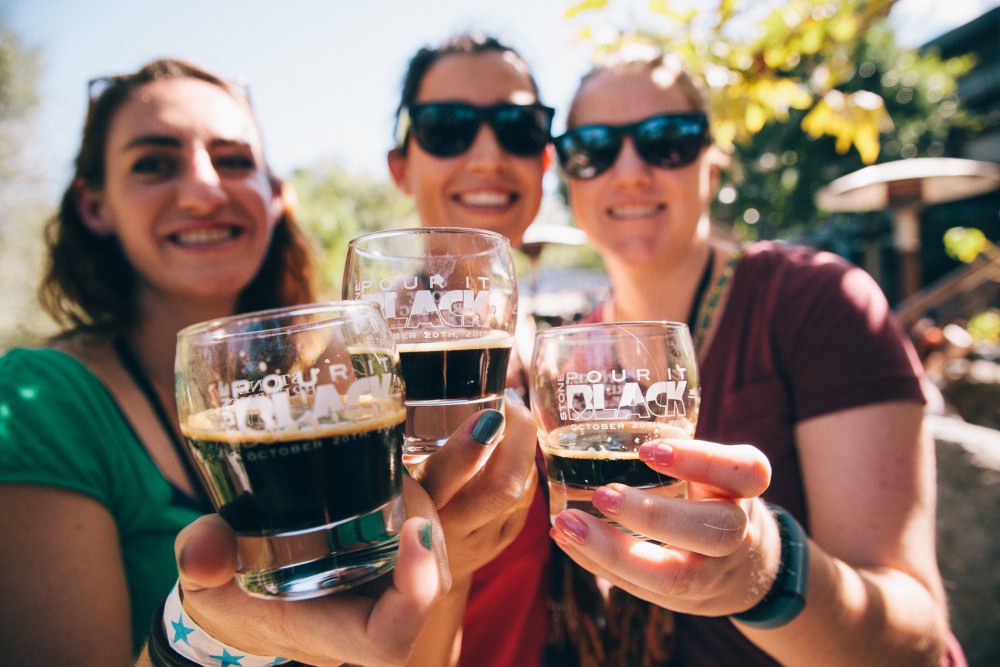 While that list of beer and events would make for an impressive year, we're not done yet. Some big happenings (besides GK's sabbatical) included the announcement of Stone Brewing Co. - Berlin. Stone will soon be the first American-owned craft brewer to build a brewery (and restaurant and packaging hall) in Europe. We're excited for the opportunity to bring fresh beer (and our beer at that) to Europeans. Also exciting are the collaboration beers we plan on brewing once we're operational in Germany. Our friends at BrewDog, Baladin, Avery Brewing, The Lost Abbey, AleSmith Brewing Co., Surly Brewing Co. and more will bring their A-game to brew the best beer that our (patient) fans helped bring to life via the Stone Groundbreaking Collaborations series. Not long after we made the announcement for Berlin, proposal for sites to house our East Coast location piled in. With hundreds of proposals, choosing top contenders was daunting, but eventually the top three emerged. That meant choosing between Columbus, Norfolk and Richmond, which was no easy task. After a difficult decision-making process, much deliberation and some admitted back-and-forth, a riverfront site in Richmond's Greater Fulton Community was selected. We owe a ton of thanks to everyone who pitched in and helped us make both of these locations a reality. Both projects give us big reasons to be excited for the New Year. We look forward to embarking on 2015, a fresh slate for new beers and much, much more!