THIS EVENT DATE HAS PASSED
November 9, 2018
---
7:00PM - 11:00PM
Image

There will be a limited number of tickets available at the door for purchase!
While Stone has long had a reputation for brewing hop-forward IPAs, we've always had a deep appreciation for the glorious dark side of beer. If you've attended our Oakquinox or Pour It Black events in the past, we've combined them both into one massive celebration of the finest stouts, porters and barrel-aged delights.
We're putting together an incredible list of beers from Stone along with amazing guest beers from some of the finest craft breweries in the world. We got rave reviews from the attendees of the first DRK in 2017, and we can't wait to step it up and make it an even more fantastic experience for the second edition.
YOUR $65 TICKET INCLUDES:
Fifteen 3oz tasters
A commemorative glass to take home
Amazing dark and rare beers to choose from!
Special Treats: We'll also have our friends from Nutista Stoneground Nutbutters providing samples of their locally handmade, all-natural nutbutters for you to pair with any of these abundantly flavorful beers.
For the first time, this event will take place on Friday evening! 
---
Stone DRK Festival T-Shirt
There will be a limited number of Stone DRK Festival T-shirts available for sale at the event. 
Image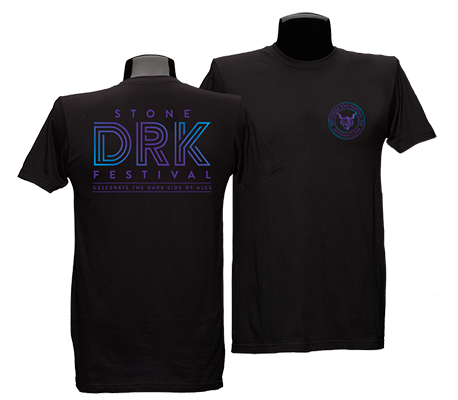 Stone Brewing Beers
Guardian's Slumber (2013 Stone Old Guardian Barley Wine aged in Bourbon Barrels)

Stone Barrel-Aged Imperial Saison with Peach (Aged in Red Wine Barrels)
Stone Liberty Station - Stone Classic Series: Smoked Porter
Stone Liberty Station Wiser Moron
Stone Mission Warehouse Sour - Mosaic Wild Ale
Stone Mission Warehouse Sour Blackberry + Black Currant
Stone Napa All of the Best Beer Names are Taken
Stone Xocoveza (2014)
Guest Beers
Alchemist Luscious
Alesmith Cinnamon Vanilla Barrel - Aged Speedway Stout
Allagash James Bean Coffee Stout
Arrogant Consortia Crime
Arrogant Consortia Punishment
Avery 25th Anniversary
Avery Certatio Equestris
Beachwood BBQ & Brewing SADIE w/ Vanilla
Belching Beaver BA Horchata w/ Mostra Coffee (Aged in Templeton Rye Whiskey Barrels)
Brasserie De Ranke Noir de Dottignies
Brouwerij De Dolle Special Export Stout
Cigar City MOAT
Crux Better off Red
De Struise Brouwers Dark Horse Reserva
Deschutes / Bells Schwarzbier
Eclipse Apple Brandy
Eclipse Belle Meade
Eclipse Grand Cru
Eclipse Joseph Magnus
Fall 2AM Bike Ride
Half Acre Benthic
Jing-A Smoked Guizhou Chili Porter
Lost Abbey Agave Maria
Mikkeller Grandma's Boi
Modern Times Palace of Cracked Heads
Oskar Blues Death by Coconut
Pizza Port Deez Imperial Nuts
Prairie Artisan Ales Deconstruct BOMB! Chili Peppers
Propolis Flemish Brown
Sierra Nevada Trip in the Woods Tequila Otra Vez
Silva S-Shot
The Bruery Cuivre
Three Weavers Extraordinary Humans Urban Roots
Trve Brewing Co. Ancient Bole
Upland Darken
Pretzel Brat $10
Saags cheddar bratwurst on a pretzel dough bun w/caramelized onion & Stone IPA mustard
Soyrizo Beer Cheese Potatoes $7
Roasted fingerling potatoes w/soyrizo, Stone Ripper cheese sauce & green onions
Stone Stout Bavarian Pretzel $10
All-natural, artisan hand rolled jumbo pretzel made w/Stone Totalitarian Stout, served w/ Stone IPA mustard 
Christian Taylor is an authentic Soul and Blues singer with an original voice. His performances are memorable, always genuine, and seamlessly work with the environment he is in. A typical set will sound like Ray Lamontagne, Otis Redding, Van Morrison, Tom Petty, Black Keys, and Johnny Cash; all performed with the unique tweak that only Christian can deliver.