THIS EVENT DATE HAS PASSED
Stone Tropic of Thunder Weekend Escape
October 12, 2018 - October 14, 2018
Sometimes the right beer can transport you to your happy place. Climb aboard the S.S. Stone to embark on a weekend escape – we've got a great selection. We'll be pouring some of our most seaworthy brews ranging from the tropical-inspired to those darker and heavier than the ocean's depths! If you've got island-inspired attire or just so happen to be a lawless captain of the high seas, you might even receive special pricing on pints.
Keep The Glass
We'll be offering a limited amount of Stone Tropic of Thunder Lager 20oz Glasses for purchase. Customers participating in this limited offering will receive special pricing on select beers.
Image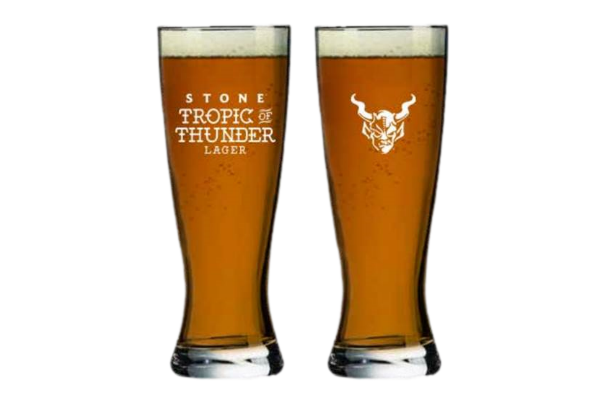 Stone Tropic of Thunder Lager / 5.8%
Stone Pilot: Moxee Gold IPA / 7%
Stone ParaXtranormal IPA / 7.7%
Stone Napa Borreo Gose w/Sour Cherries / 4.5%
Stone Napa Borreo Gose w/Black Currant / 4.5%
Stone Liberty Station BerubAde (IPA brewed w/ Lemon Peel & Elderberries) /  6.4%
Stone Liberty Station Mango A-Salt (Mango Chili Gose)  / 4.5%
Stone Liberty Station Buoy 1 SD Pale Ale w/ Centennial & Galaxy / 5.5%
Stone Experimental Batch 097: Stout w/ Lemon & Grapefruit Peel
Stone Experimental Batch 099: Brut IPA / 7.3%
Stone Cali-Belgique IPA aged in Red Wine Barrels w/ Sour Cherries / 9.6%
Mikhail (Stone ESPRESSO Imperial Russian Stout aged in Bourbon Barrels) / 11%
Stone Xocoveza / 8.1%
Stone Hop Revolver IPA Mosaic / 7.7%
Stone ///Fear.Movie.Lions Double IPA / 8.5%
Stone White Geist Berliner Weisse / 4.7%
Stone Tangerine Express IPA / 6.7%
Stone Scorpion Bowl IPA / 7.5%
Stone Ripper / 5.7%
A special cask with estate grown hops will be tapped Friday, October 12 at 4pm!
Stone Delicious IPA w/ Fresh Chinook Hops, Lemon Balm, Pineapple Sage