THIS EVENT DATE HAS PASSED
***WE'RE SORRY, BUT STONE SOUR FEST IS SOLD OUT! PLEASE CHECK OUT OUR NEXT FESTIVAL, STONE 21ST ANNIVERSARY CELEBRATION & INVITATIONAL BEER FESTIVAL.***
We have been busy hunting down the best sour beers the world has to offer in order to bring you one of the biggest festivals ever held featuring these special brews. Pucker up and join us for hours of sours as we celebrate the amazing world of tart and tasty ales!
A $49 Stone Sour Fest ticket includes:
A commemorative glass
Fifteen 3oz tasters
Over 100 amazing beers to choose from!
Featured Merchandise
Add a Stone Sour Fest shirt to your order for just $20!
Image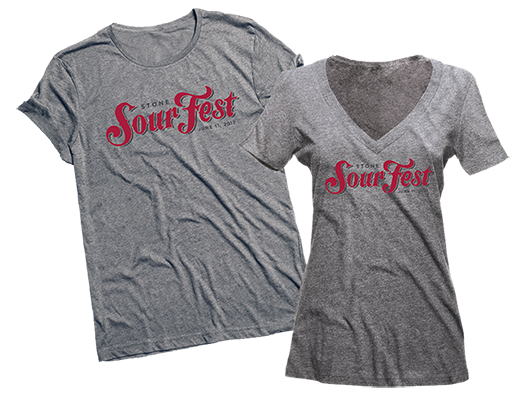 3 Fonteinen Doesjel
3 Fonteinen Oude Kriek
Allagash Evora
Almanac Farmer's Reserve Blackberry
Almanac Farmer's Reserve Citrus
Almanac Farmer's Reserve: Pluot
Almanac Hoppy Sour: Wakatu
Almanac Passion Project
Almanac Valley of the Heart's Desire
Almanac Vanilla Cherry Dogpatch
Almanac White Label
Alvinne Cuvee Freddy
Alvinne Wild West Grape Edition
Anderson Valley Gatlin Damnosus
Avery Apricot Sour
Avery Certatio Equestris (Barrel-Aged Series #38)
Avery Fortuna (Barrel-Aged Series #28)
Avery Insula multos Collibus (Barrel-Aged Series 27)
Avery Lunctis Viribus (Barrel-Aged Series 33)
Avery Raspberry Sour
Avery Tectum et Elix (Barrel-Aged Series 26)
Beachwood Blendery Careful With That Pineapple Guava, Eugene
Beachwood Blendery Chaos Is A Friend Of Mine
Beachwood Blendery Dia De Los Mangos
Beachwood Blendery Strawberry Provence
Bear Republic Barrel 100
Bear Republic Barrel 101
Bear Republic Cuvee de Bubba
Bear Republic Tartare
Bear Republic Tartare Rouge
Bitter Brothers Family Tart: White Peach
Bitter Brothers Flesh & Blood
Boulevard Changeling
Boulevard Funkier Pumpkin
Brouwerij De Leite Cuvee Jeun'homme
Brouwerij De Leite Cuvee Mam'zelle
Bruery Terreux Beret
Bruery Terreux Gypsy Tart
Bruery Terreux Rueuze
Bruery Terreux Sour in the Rye
Bruery Terreux Tart of Darkness
Cascade Brewing Barrel House Blackcap Raspberry
Cascade Brewing Barrel House Blueberry
Cascade Brewing Barrel House Noyaux
Cascade Brewing Barrel House Sang Rouge
Cascade Brewing Barrel House Sang Royal (2012)
Cascade Brewing Barrel House Strawberry
Cascade Brewing Barrel House The Vine
Cervejaria Way / Stillwater Amazon Gose
Cervejaria Way Sour Me Not Acerola
De Proefbrewrij Flemish Primitive Wild Ale Surly Bird
De Ranke Cuvee De Ranke
Dogfish Head Red & White
Firestone Walker Bretta Weisse
Flat Tail - DAM Wild: Hops & Lemon Verbena
Flat Tail - DAM Wild: Marionberry Pink Peppercorn
Flat Tail - DAM Wild: Pink Lemonade
Great Divide 21st Anniversary American Sour Ale
Great Divide Strawberry Rhubarb
Great Divide Unicorn Hearts
Green Flash Cellar 3 Series: Blanc Tarte Barrique
Green Flash Cellar 3 Series: Nouveau Tarte
Grimm Rainbow Dome
Hanssens Oude Gueuze
He'Brew/Shmaltz Funky Jewbelation
High Water Le Petit Diablotin
High Water Stella Blue
Jolly Pumpkin Bam Noire
Jolly Pumpkin Oro de Calabaza
Kiuchi Brewery Hitachino Nest Anbai Ale
Leipziger Gose
Libertine Coffeetine
Libertine Wild IPA
Logsdon Far West Vlaming
Lost Abbey Cuvee de Tomme
Lost Abbey Madonna and Child Ale
Lost Abbey Red Poppy (2015)
Lost Abbey Veritas Ale 019
Mammoth Brewing Company Gooseberry Sour
Mammoth Legend of Ullr
Mikkeller Frederiksdal SpontanCherry
Mikkeller It's Alive!
Mikkeller SpontanDryHop Mosaic
Ommegang Rosetta
Panil Barriquée Sour Red Ale
Paradox Future Knowledge
Paradox Skully Barrel No. 41 Blood Rooted
Paradox Skully Barrel No. 46 Osa Frambuesa
Paradox Skully Barrel No. 47 Blue Bines
Paradox Skully Barrel No. 48 The Cherished
Paradox Skully Barrel No. 49 High Biscus
Paradox Skully Barrel No. 50 Strawbasil
Petrus Aged Pale
Pizza Port Carlsberliner
Prairie 3rd Anniversary Ale
Propolis Gardin
Propolis Oceanna
Pure Project Madeline
Pure Project Roes Red
Russian River Consecration
Slaapmutske Flemish Old Style Sour
Slaapmutske Flemish Old Style Sour: Kriek
Smog City Beta Blend
Smog City Brix Layer
Stone Barrel-Aged Brown Ale w/Balaton Sour Cherries
Stone Barrel-Aged Imperial Saison w/Peach
Stone Barrel-Aged Saison w/Blackberry
Stone Brewing World Bistro & Gardens - Liberty Station Soured Be Thy Name
Stone Foudre-Aged Imperial Saison
Sudwerk Buffalo Theory Sour Oatmeal Stout
Sudwerk Fünke Hop Farm
Sudwerk Solera Weisse
The Good Beer Co Hot Totty
The Good Beer Co Nectarine Oro
The Good Beer Co Solera
The Good Beer Co. Ringwald
To Øl Don't Gose Towards The Light
To Øl No ReRrätze
Trois Dames Handle In Hand
Trois Dames La Tentation
Victory Kirsch Gose
Victory Sour Monkey
Wandering Aengus Wild Bittersweet
Beer list subject to change.