THIS EVENT DATE HAS PASSED
June 10, 2018
---
10:00AM - 3:00PM
This event is SOLD OUT! PLEASE CHECK OUT OUR NEXT FESTIVAL, Hop-Con 6.0!
One of our most popular festivals is back for another round and this year we have a special tart twist in store. This year's Stone Sour Fest will feature beers from Stone's very own Stone Mission Warehouse Sour Program in addition to the incredible list of guest sours that made this event so popular.
Your $55 ticket Includes:
Fifteen 3oz pours
Commemorative glass to take home
75+ sour beers to choose from
*Stone Sour Fest T-shirts are also available online for $20*
Designated drivers do not require tickets. Just bring them along and make sure they have a valid photo ID.
Come out for an opportunity to meet and greet some of our Innovation Team (aka brewers) in an exclusive first-come, first-served private tasting! Sign-ups will take place at registration with no additional tickets required, just your Stone Sour Fest ticket. The first 20 fans to sign up for each session while attending the event will be able to join one of these brewing rock stars for an additional taster and a chat about why they love the beer they're sharing. Sessions will take place at the Pea Gravel Lounge. One session per fan please.
Image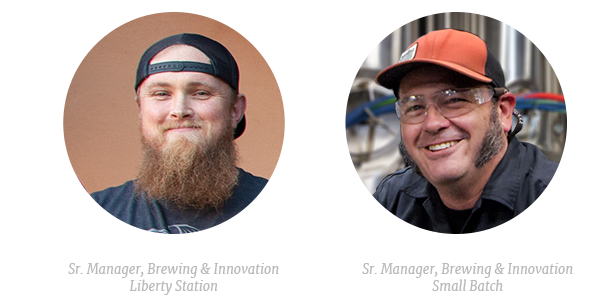 12PM – 12:30PM
Steve Gonzalez - Sr. Manager, Brewing & Innovation - Small Batch, Head of Stone Mission Warehouse Sour Program | Stone Mission Warehouse Sour – Blackberry + Black Currant 
1:00PM – 1:30PM
Kris Ketcham - Sr. Manager, Brewing & Innovation - Liberty Station | Stone Liberty Station Wiser Moron
DRAFT LIST:
Allagash Interlude
Anchorage Brewing Matame Ahorita
Avery Lunctis Viribus
Avery Tequilacerbus
Beachwood Brewing & Blendery Chaos is a Friend of Mine
Beachwood Brewing & Blendery Funk Salad
Beachwood Brewing & Blendery Umeboshi
Bear Republic TarTare
Bear Republic TarTare Rouge
Belching Beaver Batch 6 w/Strawberry and Apricots
Belching Beaver Masumoto
Boon Gueuze
Cantillon Kriek
Casa Agria Huesto
Casa Agria Pineapple Pen
Casa Agria Saison de la Casa
Cascade Kentucky Peach
Cascade/Upland Pearpawsterous
Crooked Stave L' Brett d' Apricot
Crooked Stave Nightmare on Brett
Crooked Stave Origins
Crooked Stave Silly Cybies
Ecliptic Carina Peach Sour Ale
Ecliptic Syrah Barrel-Aged UltraViolet Blackberry Sour
Firestone Walker Barrelworks 2017 Bretta Wisse
Funkwerks Raspberry Provencial
Libertine Authentic SLO Wild Ale #4
Libertine Gary 2017
Logsdon Farmhouse Seizoen
Lost Abbey Red Poppy 2015
Mikkeller Spontanpassionfruit
Modern Times Galactic Filaments
Modern Times New Atlantis
Modern Times New Atlantis (Cuvee)
Modern Times New Atlantis w/Black Currant
Paradox Skully #51 (Passion of the fruit)
Paradox Skully #60 (B'aril Blood)
Phantom Carriage Cellar Blend #12
Phantom Carriage Mixed Berry Broadacres
Pure Project Roes Red
Pure Project/Horus Aged Ales Revival
Rip Current Brewing Mango Dry-Hopped Tart
Russian River Consecration
Smog City Bluet
Smog City Devil Up a Tree
Stone Notorious P.O.G. Berliner Weisse
Stone White Ghost Berliner Weisse *brewed in Berlin*
Stone Liberty Station Tartistry
Stone Mission Warehouse Sour - Apricot
Stone Mission Warehouse Sour - Blackberry + Currant
Stone Mission Warehouse Sour - Sauvignon Blanc
The Bruery Gypsy Tart 2015
The Bruery Terreux Beret 2016
The Bruery Terreux Oude Tart 2015
The Bruery Terreux Sour in the Rye 2016
Upland Brewing Oak Brux
Upright Eye of Jupiter
Wild Barrel San Diego Vice w/Black Currant
Wild Barrel San Diego Vice w/Mango
Wild Barrel San Diego Vice w/Montmorency Cherries
BOTTLES
Cantillon Fou Foune
Cantillon Lou Pepe Geueze
Jackie O's Ties that Bind
Jackie O's White Knobs Black Diamonds
Jester King 2017 Vague Recollection
Jester King Grim Harvest
Jolly Pumpkin La Roja du Kriek
Logsdon Farmhouse ZuurPruim
Societe The Highbinder
Societe The Savage
Societe The Swindler
TRVE Brewing Company Ancient Bole
TRVE Brewing Company Cursed
TRVE Brewing Company Roísín Dubh
Allagash Brewing Co.
Anchorage Brewing
Avery Brewing Co.
Beachwood Blendery
Bear Republic Brewing
Brouwerij Boon
Cantillon
Casa Agria Ales
Cascade Brewing 
Crooked Stave
Ecliptic Brewing
Firestone Walker Barrelworks
Jolly Pumpkin Artisan Ales
Libertine Brewing Company
Logsdon Farmhouse Ales
Mikkeller
Modern Times Beer
Pure Project Brewing
Russian River Brewing
Smog City Brewing Co.
Stone Brewing
Stone Liberty Station
Stone Brewing - Berlin
The Bruery Terreux
The Lost Abbey

The Rare Barrel

Upland Brewing Co.
Wild Barrel Brewing Co.
Pretzel Brat
Saags Cheddar Brat, pretzel dough, caramelized onions served w/Stone Delicious IPA Mustard
Soyrizo Beer Cheese Potatoes
Roasted fingerling potatoes served w/soyrizo, green onion & Stone Ripper cheese sauce
Pretzel "Panzanella"
Pretzel hoagie roll served w/pickled jalapeño, cold smoked bocconcini, roasted tomatoes, grilled green onion & whole grain mustard vinaigrette
Currywurst
Saggs Bavarian Brat served w/roasted fingerling, curried Stone IPA tomato sauce & chives
Stone-Style Hemp Seed Pretzels
Soft pretzels served with whole grain mustard
Brownie & Cheesecake
House Baked Brownies & No bake cheesecake served w/blackberry preserves
Stone Sour Fest attendees will have exclusive first access to preorder Stone Mission Warehouse Sour – Blackberry + Black Currant, a day before it's available to the general public. This release will be available on draft at the event, and bottles will be available for pickup beginning June 24.